March 2021
Growth stocks have had a strong decade, capped by a stellar 2020 as investors flocked to businesses benefiting from digitalization. Wes Johnston, co-portfolio manager, Select Growth Strategy at Sands Capital, shares his take on the value rally in this question-and-answer session.
In February, growth stocks posted their worst month versus value stocks in nearly two decades. Is the bull run for growth finally over?
History shows us two things: prices tend to track compounded earnings growth over the long term, and most value creation accrues to a select group of companies. Therefore, we focus our efforts on the select few companies that we believe can generate above-average earnings growth over the next five years. 
This approach has served us well for 30 years and, if anything, we are more excited about the future given the digitalization and interconnectedness of the world. Of course, there are shorter-term cycles like we are experiencing now. They are frustrating and make this long-term approach harder to execute—but that is exactly why we believe it works!
Long-duration assets like growth stocks benefited over the past year for several reasons, including accommodative monetary policy and relative earnings strength. We've expected a reversal as vaccines are broadly distributed, the global economy cyclically recovers, and fiscal stimulus increases. The speed with which interest rates have adjusted to all this change has spooked the market, but we expect this to settle down before too much longer, and, as with similar periods in the past, it will represent a good buying opportunity.
How is that reflected in your portfolio?
Our goal is to generate above-average investment results over three- to five-year rolling periods, but we also want to manage risk well along the way. We do this by balancing innovation-driven growth businesses with more competitive-advantage-dominant or cyclical businesses that feature differentiated drivers. 
We thought the quality of the vaccine data that came out last November was transformational and justified increasing our investment in businesses most likely to benefit from a reopening economy. More recently, we have also added selectively to emerging digital businesses that have become more attractively priced after this market pullback.
From a funding perspective, we're now underweight many of the mega-cap tech businesses that were last decade's winners and are major index weights. Instead, we're looking to the next generation of leading businesses, including emerging internet leaders addressing industry-specific solutions, next-generation software businesses enabling the enterprise shift from maintenance to agility, and builders of digitally native financial infrastructure.
You're optimistic about business prospects, even after such a strong 2020? Why?
Much of the portfolio is either driving or directly benefiting from digital transformation and COVID-19 was a structural accelerant of this process. This transformation transcends nearly all industries and geographies, reshaping existing markets and creating entirely new ones. It's changing how people interact with each other, how customers interact with businesses, and how businesses transact among themselves. It's influencing how people shop, consume entertainment, bank, collaborate with co-workers, and meet people. Our portfolio's expected earnings growth is actually higher now than what it was pre-COVID.
Do you think there's still room to grow?
Absolutely. Take online shopping as an example. Ecommerce adoption accelerated in 2020, but still remains low overall, especially in certain categories and geographies. The best ecommerce businesses are leveraging their scale to add new services—like subscriptions, financial services, and entertainment—to extend their growth.
People appreciate that digital- and scale-oriented businesses are growing revenue, but what they continue to miss is that those businesses are not only improving their unit economics faster than expected but are also fortifying their competitive advantages. To use software terms, customer lifetime value is going up, but customer acquisition cost is falling.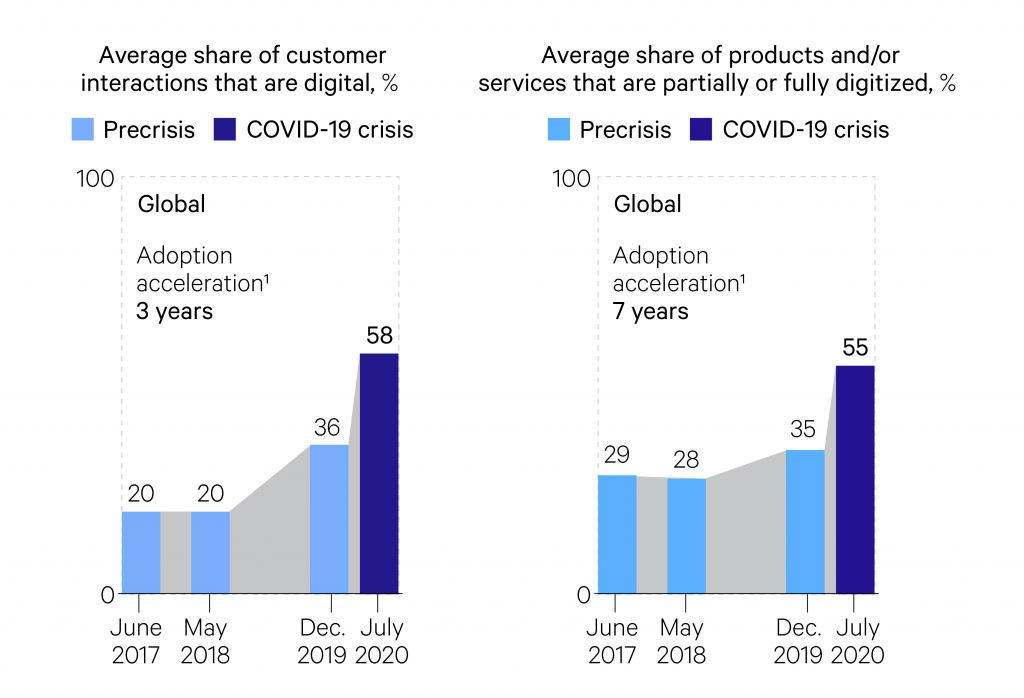 Does it worry you that valuations are still high, despite the recent selloff?
Investors need to recalibrate their broad-market return expectations after a couple of great years. But we don't invest in the market—we buy businesses. Since fundamentals tend to drive long-term value creation, we focus first on the long-term earnings power of a business before moving to valuation, which is the last of our six investment criteria.
We use an expected returns framework to assess a business' valuation relative to its earnings prospects five years from now, not next year. Based on that framework, we believe our businesses are fairly valued relative to their growth potential. We rarely model multiple expansion over our investment horizon, as we expect most value creation for our businesses to come from earnings growth.
Importantly, the math of compounding enables a leading growth business to outgrow a seemingly high near-term valuation. Mathematically speaking, a business needs to achieve 15% annualized earnings growth over five years to offset a 50% P/E decline. The weighted average consensus long-term earnings growth forecast for Select Growth was 30% as of December 31, 2020 .
In our experience, high valuation has rarely been the root cause of a bad investment outcome. Typically, a bad outcome is due to a mistake in our analysis and the business not tracking our expectations, with high valuation as a secondary factor.
Does inflation concern you?
Our general view is that the interplay of global digitalization, interconnection, and demographics is a powerful deflationary force, so we are not overly concerned by the risk of high inflation. But turning back to the concept of cycles within secular trends, there could be disruptive periods of market debate around interest rates and inflation, as we saw in the fourth quarter of 2018 and so far this year.
At the extreme end, some market strategists foresee a period of stagflation in the 2020s, similar to what we saw from about 1969 to 1982. That wasn't a great time for equities in general, but our research suggests that the winners from that period included businesses with pricing power and market leadership, and businesses with those characteristics tend to outperform, regardless of market environment.
Sure, investors can try to time the change in the market environment, but that is not our expertise. Instead, we believe investing in a small number of leading growth businesses—which often have pricing power as a result of their leadership—is a more time-tested and prudent approach.
So, how are you responding?
The businesses we seek to own often have earnings power that's agnostic to the market environment. For example, higher inflation shouldn't derail secular trends like the retail shift to ecommerce, consolidation of fragmented industries by scale leaders, or the need for innovative medicines and therapies.
Ultimately, we want to own businesses that can make their own weather. In addition to possessing pricing power, many of our businesses are less sensitive to inflationary input pressures such as wages, raw materials, and interest expenses.
Disclosures:
The views expressed are the opinion of Sands Capital Management and are not intended as a forecast, a guarantee of future results, investment recommendations, or an offer to buy or sell any securities. The views expressed were current as of the date indicated and are subject to change. This material may contain forward-looking statements, which are subject to uncertainty and contingencies outside of Sands Capital's control. Readers should not place undue reliance upon these forward-looking statements. There is no guarantee that Sands Capital will meet its stated goals. Past performance is not indicative of future results. GIPS® Reports and additional disclosures for the related composites may be found in the Sands Capital GIPS Report.
Throughout emerging markets, advances in technology are enabling the creation of digital banking solutions that better address evolving consumer preferences and enable billions of the unbanked to access the financial system.
During times of market volatility and selling, we remind our clients and one another that we need to always look forward—past these phases of market panic—to focus on the long term, where we believe value is dictated by fundamentals.
Life Sciences Revolution Unlocks Potential in Tools, Diagnostics, and Therapeutics
We believe this life sciences revolution has created exciting opportunities for select businesses to create value and generate wealth for long-term investors.
Our latest thinking on innovation investing, long-term capital, and culture.
Something has gone wrong, check that all fields have been filled in correctly. If you have adblock, disable it.
The form was sent successfully