Tech Disruptors Open Doors to Wealth Creation Potential
While analysts expect continued strength in the technology sector, concerns about accelerating inflation, a potential tightening of U.S. monetary policy, and the prospect of increasing regulation in the United States and abroad have clouded the outlook. Against this backdrop, Emerson Bluhm and Tom Trentman, co-portfolio managers of the Technology Innovators strategy, share their views on risks and opportunities for global technology investors.
October 2021
What is your outlook for the rest of 2021 and beyond?
Bluhm: We believe history shows us two things. Stock prices tend to track compounded earnings growth over the long term, and most value creation in the market accrues to a select group of companies. In the short term, stock prices can bounce around as investors adjust to rising interest rates, accelerating inflation, and other macroeconomic events by moving into shorter-term investments. These moves can create volatility for long-duration assets, including high-growth innovative businesses. However, over the longer term, we expect business results to be the primary determinant of share prices. Therefore, we focus our efforts on searching for the select few companies that can generate sustainable above-average earnings growth for the next five years and beyond.
We believe the technology sector—with a focus on disruptive innovation—is fertile ground for seeking these companies. As we detail below, we believe we live in a period of accelerating change, enabled by the proliferation of mobile and cloud computing, and by the technological advancements that have made computer chip production faster, better, and more affordable. Nearly every part of our personal, consumer, and professional lives is becoming digitalized—an evolution that we believe creates a significant opportunity for entrepreneurs who can leverage technology to upend the status quo. We see a wide range of possibilities for disruption and subsequent wealth creation, such as the continued proliferation of ecommerce around the world; a modernizing of enterprise software; the rise of artificial intelligence and machine learning; and the continued digitalization of our consumer lives.
How will a higher rate of inflation affect your opportunity set, and how are you positioning?
Trentman: Like everyone else, we are seeing signs of inflation across many products and industries. Whether this proves transitory as consumer balance sheets and global supply chains normalize post-pandemic, or this becomes structural, remains to be seen. We believe that global digitalization, cloud computing, lower technology costs, and an interconnected supply chain are powerful deflationary forces. However, there can be cycles even within secular trends, and we can expect periods of market turmoil when the rate of change accelerates relative to prior expectations.
We don't pretend to be able to predict the path that inflation will take over the short, medium, or even long term. Our skill set, we believe, is in identifying a small group of the highest-quality businesses that can make their own weather in any environment. We look for traits such as market leadership, pricing power, and business-model strength that we expect will help select businesses outperform over the long term, regardless of the market environment.
Diving deeper into the impact on specific information technology (IT) sectors, we think many of these businesses should be largely immune from structural inflation. The competitive advantage that many of our companies enjoy is embedded in their intellectual property. These businesses build and sell digital goods at high incremental margins with low capital expenditure requirements. As a result, most of them do not face cost inflation from energy, raw materials, supply chain pressure, or generic labor. We expect the war for talent, especially for high-quality developers and engineers, will be the primary driver of higher costs. However, this is not a new phenomenon, but a continuation of a trend we've observed for over a decade. We may even see some modest alleviation of price pressures as remote work makes it easier for companies to hire globally and in lower-cost regions. We also believe top talent will continue to gravitate to the strongest businesses that can offer the most competitive salaries.
Elsewhere, we expect inflation to accelerate in the semiconductor space as Moore's Law—which says that the number of transistors on a microchip doubles about every two years, while at the same time the cost of computer is halved—becomes more complicated (and therefore more expensive) to advance at a time when the demand for compute power will continue to rise dramatically. Therefore, we believe that businesses providing enabling technologies to meet this demand will extract an increasing share of the value created.
How do you think changing global regulations will affect technology companies? What's your assessment of the global regulatory environment for tech companies?
Bluhm: Around the world, we have seen regulators, politicians, and often the public grow increasingly concerned about monopolistic practices, data privacy, and misinformation when it comes to large technology companies. In China, we witnessed the fast enactment of widespread regulations that would face far more hurdles in bicameral legislatures, like in the United States.
It is difficult for anyone outside the Chinese government to know what regulatory issues it will focus on next. However, we expect to see more regulatory pressure, especially for consumer internet companies that may not be deemed as supporting common prosperity and China's Five-Year Plan. We think this expectation will pressure Chinese asset prices, and valuations of affected companies are unlikely to rebound in the near term. Concerns about the Chinese regulatory environment will also likely increase interest in tech companies in other emerging markets (Latin America, India, Korea, etc.), which may boost their multiples.
We do not view Chinese regulation as a precursor to more aggressive government action around the globe. Big-tech regulation is not a new issue in the United States. As growth investors, we have been navigating changing regulatory environments for years. We are monitoring the potential for legislative action to strengthen the antitrust laws (which historically have used the precedent of consumer harm) and to directly regulate tech platforms. However, given the realities of the legislative process and competing policy objectives, we think small changes are most likely in the near term.
We believe that most of our businesses are insulated from these risks, given their current size, market share, and value propositions. We are underweight the mega-cap technology complex FAAMG, which is made up of Facebook, Apple, Amazon, Microsoft, and Alphabet. (Figure 1).1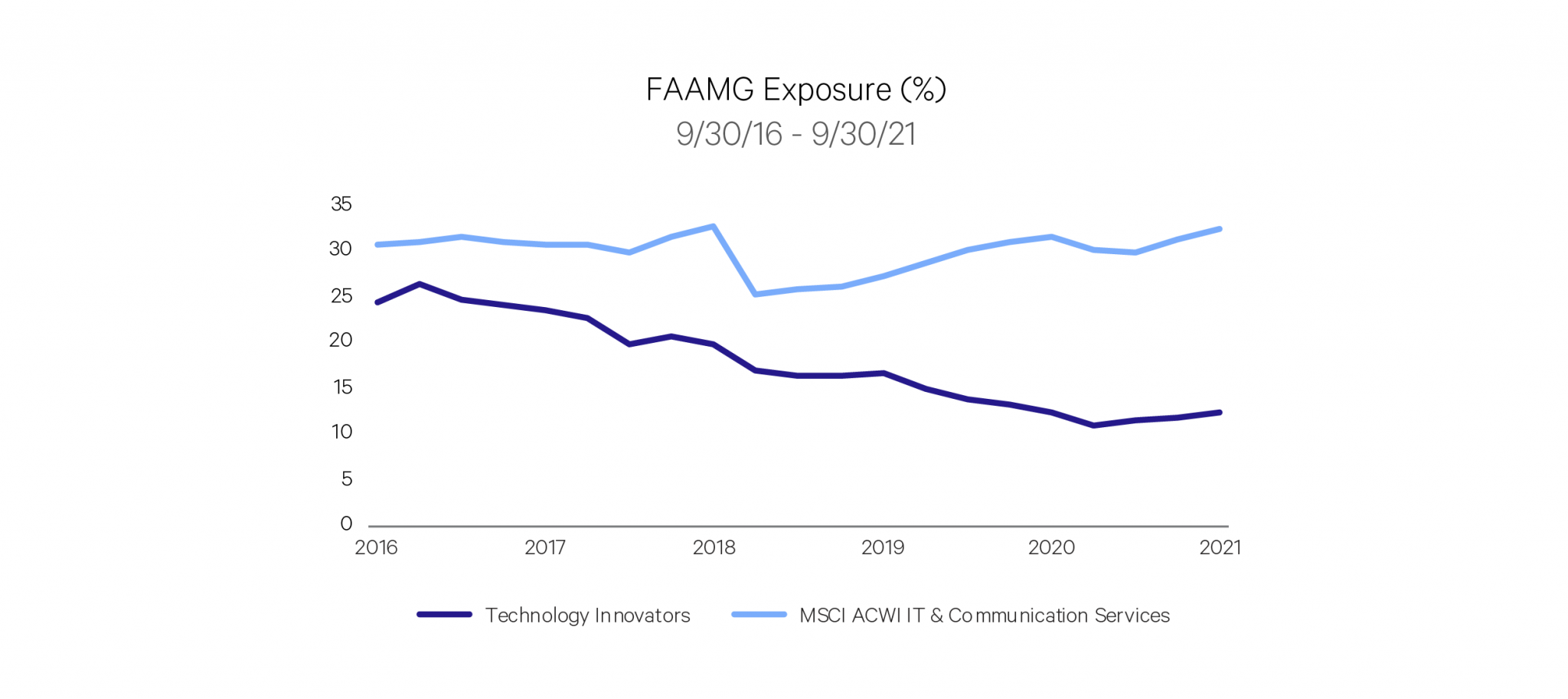 Where do you see opportunities going forward?
Trentman: As our benchmark, the MSCI ACWI Info Tech & Communication Services Index, has become dominated by its largest businesses, we believe differentiation will be key to delivering excess returns in the future. While the rise of mega-caps hasn't been without merit, in our view, the next decade will look very different in terms of growth leadership. Looking ahead, we believe that value creation will require positioning for this leadership shift before it's appreciated by the market and reflected in the index.
We believe we live in an exciting time full of disruptive innovation and change. Every element of our lives is becoming digitalized as mobile and cloud computing dramatically increase the scale of opportunity for IT businesses. Along with the technological advancements, such as the rise of cloud computing tools, the availability of venture capital has led to an explosion in the number of new technology businesses that have the potential to scale faster than before. This, in turn, has enabled new businesses and business models that can create new markets from scratch and/or disrupt legacy incumbents.
This dynamic has, in our view, forced a technological awakening from businesses of all sizes and across all verticals. Every business needs to rethink its relationships with consumers, employees, suppliers, and partners with a digital-first mindset or risk being disrupted by digitally native competitors. Nearly every company now needs to become a software and digital experience company.
To capitalize on these trends, we seek to identify the leading disruptors and enabling technologies that have robust, long-term opportunities for sustainable growth as well as strong competitive moats that will enable them to capture that opportunity. We also look for businesses that are helping traditional enterprises become more digital as they seek to remain competitive with newer companies that are disrupting existing markets.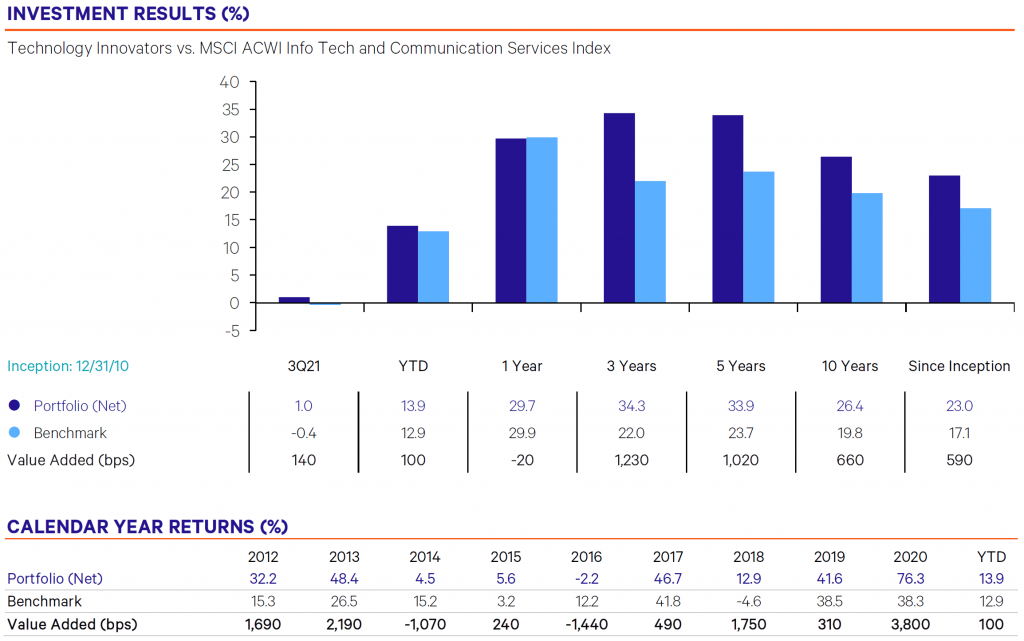 1 Apple is not an SCM holding as of this article date As of 9/30/21 the Technology Innovators strategy held Alphabet (4.7%), Amazon (4.6%), and Facebook (3.1%). Apple and Microsoft are not current Technology Innovators strategy holdings.
Disclosures:
This material is not intended as a forecast, a guarantee of future results, investment recommendations, or an offer to buy or sell any securities. The views expressed by Sands Capital Management and the information contained herein are current as of the date indicated and are subject to change. This material may contain forward-looking statements, which are subject to uncertainty and contingencies outside of Sands Capital's control. Readers should not place undue reliance upon these forward-looking statements. There is no guarantee that Sands Capital will meet its stated goals. Past performance is not indicative of future results. A company's fundamentals or earnings growth is no guarantee that its share price will increase.  Characteristics, sector exposure and holdings information are subject to change, and should not be considered as recommendations. References to companies provided for illustrative purposes only. The specific portfolio holdings identified and described do not represent all of the securities purchased, sold, or recommended for advisory clients. There is no assurance that any securities discussed will remain in the portfolio or that securities sold have not been repurchased. You should not assume that any investment is or will be profitable. GIPS® Reports and additional disclosures for the related composites may be found in the Sands Capital GIPS Report.
Finding Opportunity Beyond Volatility
While we believe we own businesses that can stand the test of time, periods of volatility offer an opportunity to revisit, challenge, and build fresh and renewed conviction in all of our investment cases.
Today, we view electrification, or the shift from vehicles with internal combustion engines to those powered by batteries, as one of the most important secular trends of the next decade.
Uncovering Long-term Opportunity in a Short-sighted Market
As the worst sell-off in our 30-year history ensues, we are reflecting on our investment cases and the expected returns of our businesses, which we believe are more attractive than they have been in years.
Our latest thinking on innovation investing, long-term capital, and culture.
Something has gone wrong, check that all fields have been filled in correctly. If you have adblock, disable it.
The form was sent successfully