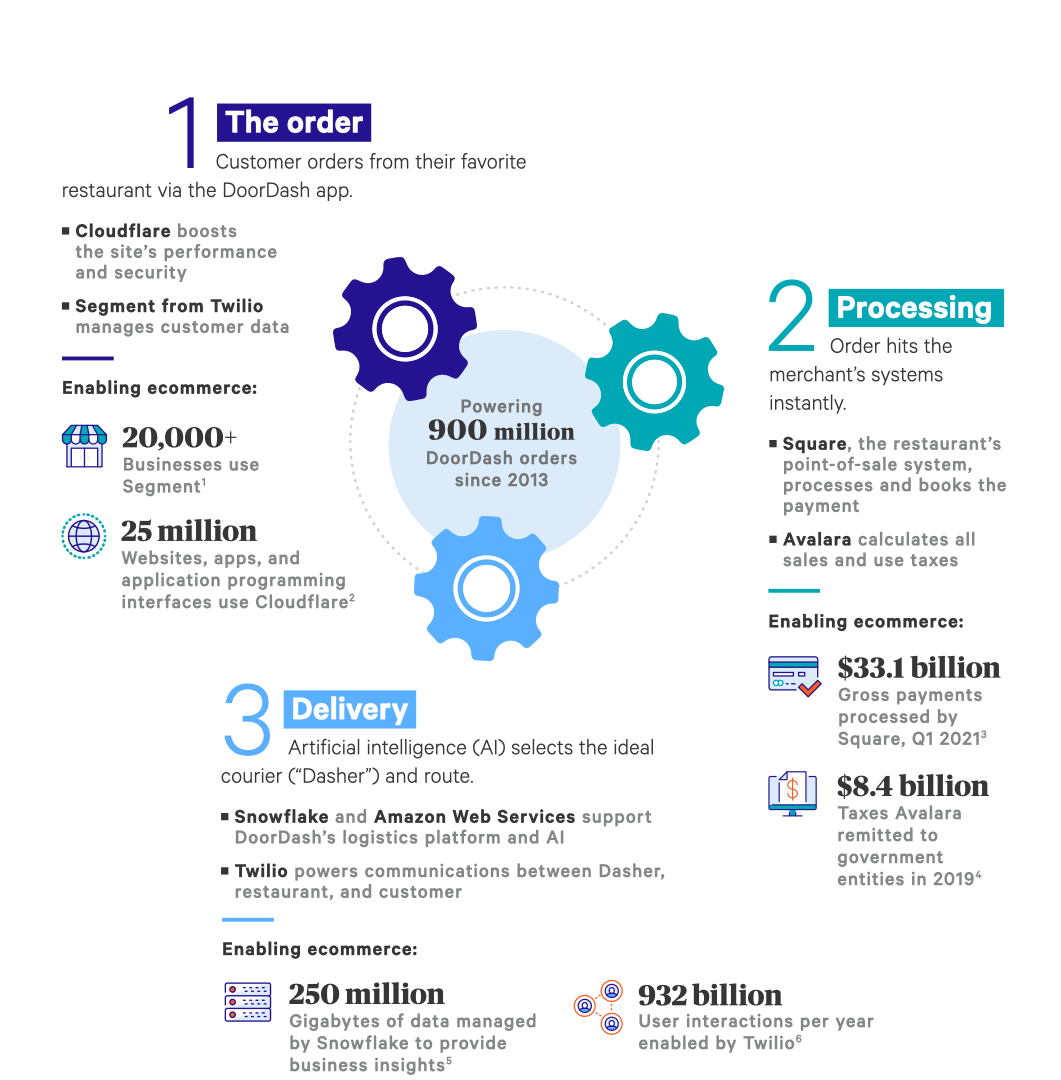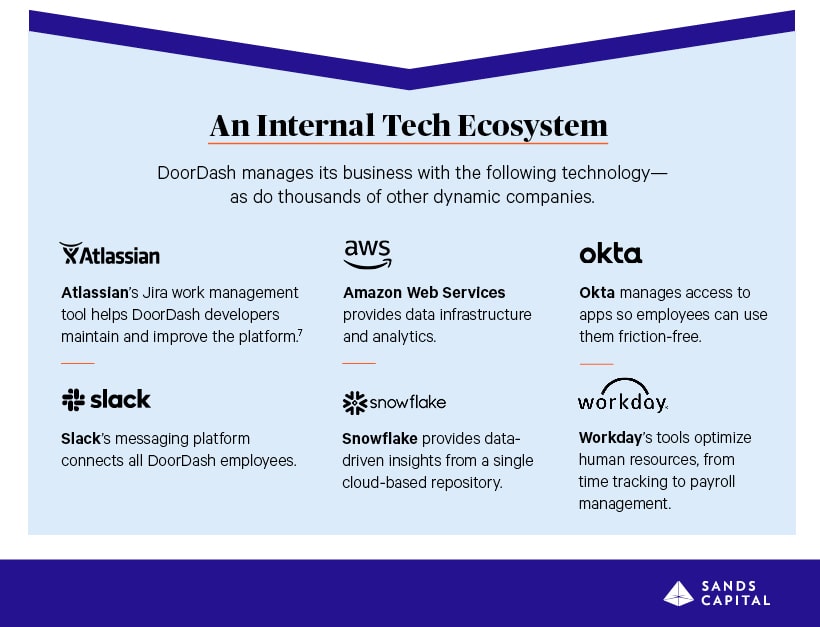 Disclosures: The series of infographics features businesses and related companies that were selected to illustrate current underlying macroeconomic and sectoral trends. The series uses rotation whereby businesses featured are selected to highlight different trends across sectors and geographies.
The DoorDash infographic illustrates the businesses that support a technology ecosystem that enables the ordering, processing, and delivery of an ecommerce order. The companies shown are held in the following Sands Capital strategies: Select Growth (Amazon, Atlassian, DoorDash, Snowflake, Square, Twilio), Global Growth (Amazon, Atlassian, DoorDash, Okta, Snowflake, Twilio, Workday), Global Leaders (Cloudflare), and Technology Innovators (Amazon, Atlassian, DoorDash, Okta, Snowflake, Square, Twilio, and Workday). Slack is not held in any Sands Capital strategies.
This material is not intended as a forecast, a guarantee of future results, investment recommendations, or an offer to buy or sell any securities. The views expressed by Sands Capital Management and the information contained herein are current as of the date indicated and are subject to change. This material may contain forward-looking statements, which are subject to uncertainty and contingencies outside of Sands Capital's control. Readers should not place undue reliance upon these forward-looking statements. There is no guarantee that Sands Capital will meet its stated goals. Past performance is not indicative of future results. References to companies provided for illustrative purposes only. The portfolio companies identified do not represent all of the securities purchased or recommended for advisory clients. There is no assurance that any securities discussed will remain in the portfolio or that securities sold have not been repurchased. You should not assume that any investment is or will be profitable. GIPS® Reports and additional disclosures for the related composites may be found at Sands Capital Annual Disclosure Report.
In this podcast series, we explore some of the trends and businesses that are propelling global innovation and changing the way we live and work today and into the future.
What Matters Most—Episode 3 MercadoLibre
President and Director of Research Perry Williams and Research Analyst Judy Jiao discuss MercadoLibre. The team takes a look at how the company launched its fintech business in Latin America, expanded into grocery, and finetuned its logistics network.
What Matters Most—Episode 2 Sea
In this podcast, Neil Kansari discusses Sea, and outlines the economic, demographic, and market conditions in Southeast Asia for ecommerce and digital finance adoption.