Active management is vital to creating alpha amid expectations for lower absolute returns.
March 2020
U.S. stock investors benefited from an unusually long bull market until the coronavirus pandemic ended it in 2020. Though there are many reasons to be optimistic about the future, we believe lower absolute returns are more likely than higher returns in the coming years. Therefore, the alpha, the excess return provided against the benchmark, created by active investment strategies will become even more vital for investors to achieve their long-term funding goals.
We believe that investors' needs for absolute returns—whether to meet liabilities or to create future wealth—may not be met by passive returns alone, and that successful active approaches will become an even more critical component to achieving return targets.
We see tailwinds for active approaches. However, certain active approaches are better positioned to benefit than others, in our view. Our brand of active investing applies deep, business-focused research to seek to identify leading innovative companies with sustainable competitive advantages. It organizes those businesses in concentrated portfolios over long holding periods to maximize impact. We believe this approach to active investing is especially well positioned to add value for clients.
Future Growth Returns Will Likely be Lower
A decade of unprecedented expansionary monetary policy and durable economic growth indiscriminately inflated stock prices, driving the longest U.S. bull market on record. This rising tide lifted most boats, and investors enjoyed higher-than-usual absolute returns by simply buying the index.
Given these strong absolute returns, we can't blame investors for flocking to passive strategies, which garnered over $700 billion in net inflows over the 10 years ended June 30, 2019.1
However, after a decade, the tide may be going out. When the pandemic hit in the beginning of 2020, global economic growth was already slowing, equity valuations were elevated, monetary policy tools were limited, geopolitical tensions were rising, and globalization was in jeopardy.
So, it is not surprising that something is bound to change. We have never claimed any aptitude or interest in timing markets or factor shifts, and we aren't going to start now. But it seems inevitable to us that steady increases in indexes—without regard to component fundamentals—cannot persist indefinitely. Therefore, investors should consider how they will achieve their return objectives should indexes fail to deliver.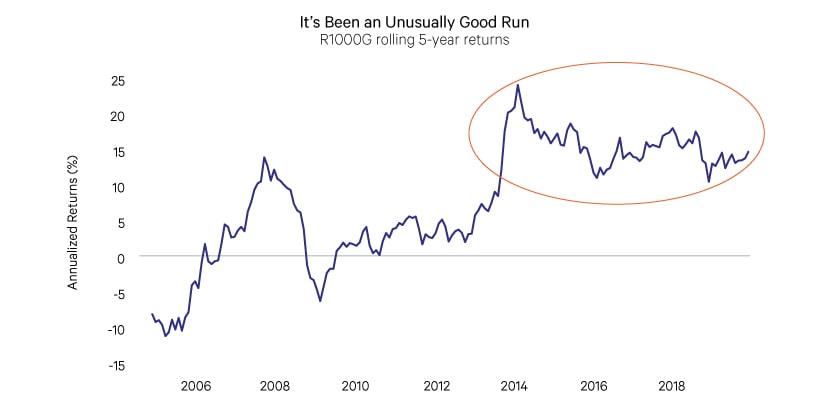 Beta Alone May Not Cut It
With potentially lower future returns for equities, there could be a mismatch between what many investors need and what they will be able to passively achieve.
For example, most endowments must generate seven to eight percent returns annually to meet their long-term funding requirements and maintain purchasing power. This exceeds many of the most-recently published forecasts  for long-term equity returns, as well as prospective returns historically seen from current market price-to-earnings (P/E) levels. Institutions may find it increasingly difficult to deliver the inflation-adjusted returns necessary to fund distributions without permanently impairing their capital bases. Underfunded pension plans—often with similar or even higher return objectives—could face even more dire situations in a lower-return environment.
Clearly, many investors will need to embrace strategies with the potential to deliver higher absolute returns. Increasing leverage is one way. Another, we believe, more prudent approach is investing in differentiated active strategies with credible approaches to identifying opportunity.
Active Tailwinds: Just as the overall environment for equities is changing, so too is the landscape for active investors, who may stand to benefit from potentially higher volatility and falling correlations. However, we believe there are three distinct factors that will especially advantage active approaches:
Accelerating Innovation: The pace of innovation is accelerating, enabled by significant and continuing advances. New technologies are unlocking scientific progress and are helping businesses scale faster than ever. Investors who rely on passive equity investing aren't positioned to benefit from this innovation, in our view. The largest index weights are based on past growth, so higher index concentration—combined with larger allocations to passive strategies—means that investors are increasingly exposed to yesterday's growth drivers.
Looking ahead, we expect that strategies with both the experience to identify innovative businesses and the ability to own them will be uniquely advantaged. These strategies will likely have high "active share" or differentiation from the benchmark.
Advantage for Secular Growth: This innovation acceleration, combined with a potentially lower-growth environment, will likely cause a flight to true, fundamental quality. We've already begun to see this, with growing investor focus on profitability, following the collapse of The We Company's (the parent of the WeWork shared workspace company) public offering in August 2019.2
The divide between great companies capable of making their own weather—and those susceptible to the economic winds of change—will likely become wider and more apparent. Leading businesses tend to further entrench their positions at the expense of weaker competitors during turbulent times. Against this backdrop, we believe that strategies capable of identifying and investing in secular growth, while avoiding businesses susceptible to disruption and cyclical fluctuation, will be advantaged.
Industry Dynamics: The investment management industry is structurally changing. Fee pressures and performance woes have resulted in record industry consolidation, with acquisitions and layoffs. Many firms have resorted to asset gathering and undifferentiated strategies based on marketable buzzwords and fleeting fads, further reducing the number of strategies truly focused on price discovery. Ironically, declining active share among managers—in an attempt to dampen volatility—has likely contributed to the industry's overall lackluster performance.
Additionally, regulation is resulting in less research coverage, potentially increasing market inefficiencies. We believe these changes could result in fewer people fishing in a better-stocked pond, resulting in greater alpha-generation potential.
Not All Active is Created Equal Due to the asymmetric nature of equity returns, we believe that successful active strategies create value for clients by finding the select truly special businesses, and owning them at large weights during their fastest periods of growth.History shows that the vast majority of wealth creation has been concentrated in a small number of exceptional companies. Over the past 30 years, a mere one percent of all businesses accounted for 50 percent of the market's return. Nearly half of all businesses—43 percent—actually destroyed value.3
The math demonstrates the importance of identifying seeking the one percent, having the fortitude to own it in meaningful weights, and participating in its full growth potential. Investors must do all this while avoiding the half of all companies that will ultimately lose value. This quest for the one percent may sound like trying to find a needle in a haystack, but, in our view, it's much simpler than that. Over the long term, stock prices typically follow the earnings growth and power of the underlying businesses. Our solution, therefore, lies in finding the select companies that can sustain above-average growth for long periods, and in having confidence that returns will follow. We use our six criteria to seek out these businesses. Our experience has reinforced our view that our criteria-driven approach is not only repeatable, but it is also durable across economic environment and investment landscapes.
Positioned for the Road Ahead
We believe our portfolios are well-prepared for this changing market environment:
Higher-Quality Duration Growth Businesses: We've always owned what we consider "duration growers"—businesses with more relative predictability and stability of earnings—in our portfolios. We believe that today's group of duration growers have far stronger competitive advantages than our duration growers of the past. As such, they should play the role of duration grower better and provide more ballast in the portfolio than previous generations.
Managing High-Level Portfolio Exposures Better: As the growth landscape has evolved, so too have our portfolios. For example, we've reduced our weightings to some companies and sectors that we believe could have a more difficult time making their own weather going forward—especially in such a negative pricing environment—and have sold businesses no longer meeting our criteria.
Great, Not Merely Good: We've always been ruthless with our application of the investment criteria. We continue to vigorously stress-test our existing businesses—while continuing to search the landscape for new opportunities—seeking to determine that we are owning only the few, truly great businesses. We believe this has become easier as we've grown our research platform and applied it to new opportunity sets, including global and private markets. Every new strategy since Select Growth has been a derivative of a predecessor, and complements our other strategies.
Despite these marginal changes, we continue to do what we've always done: apply our deep domain experience to seek great businesses that are defining the future. We may see stock-price volatility from day to day or quarter to quarter. However, we continue to believe that our criteria-driven process will deliver strong results over the long term.
Seeking Alpha-generated Strategies 
In a world of lower absolute returns, we believe that investors should seek alpha-generating strategies to achieve their absolute-return goals. However, we believe that true success lies in the ability to exploit the asymmetric nature of long-term stock-price returns. We continue to rigorously apply our criteria to seek to identify the businesses at the forefront of disruptive innovation, and expect that our approach will deliver strong long-term results for our clients.
1 Source: eVestment. U.S. passive equity net inflows from 6/30/09 to 6/30/19.
2 The We Company is not held by any Sands Capital strategy.
3 Source: FactSet as of December 31, 2019.
Disclosures:
Data presented is that of the Select Growth strategy. The views expressed are the opinion of Sands Capital Management and are not intended as a forecast, a guarantee of future results, investment recommendations, or an offer to buy or sell any securities. The views expressed were current as of the date indicated and are subject to change. Past performance is not indicative of future results. A company's fundamentals or earnings growth is no guarantee that its share price will increase. You should not assume that any investment is or will be profitable. GIPS®-compliant presentations and additional disclosures for the related composites may be found at Sands Capital Annual Disclosure Presentation.
Ecommerce: A Play in Multiple Acts
Ecommerce leaders are moving into adjacent businesses that we think give them potential for second and third "acts" that lengthen and expand their runways for growth.
Here's Why Select Growth Businesses Can Continue to Add Value
Wes Johnston, Co-Portfolio Manager, Select Growth strategy at Sands Capital shares his take on the value rally in this question and answer session.
Seeking Digital Disruptors in International Markets
Ashraf Haque and Sunil Thakor, co-portfolio managers of Sands Capital's International Growth Portfolio, dive into the opportunity set that can be found overseas.