May 2021
Even with U.S. equities performing well, now more than ever investors need to think differently. Ashraf Haque and Sunil Thakor, co-portfolio managers of Sands Capital's International Growth strategy, dive into the opportunity set that can be found overseas. Is now the time to be focusing on international equities?
Thakor: The opportunity set outside the U.S. is particularly attractive for concentrated active managers, given its complexity and bifurcated nature. It comprises thousands of companies from over 45 countries, each with distinct growth prospects, central bank policies, demographics, and economic exposures.
There are a lot of bad companies, but there are a select few that, in our view, have the potential to be dominant players outside the U.S. A philosophy of seeking to "own the few, own the best" works particularly well in opportunity sets where, in our view, there are rare businesses that have the potential to drive long-term equity returns.
Haque: In addition to that backdrop, we see secular changes inflecting that should widen the gap between the winners and the losers.
For the last 25 years, a lot of disruption and innovation was created in the U.S. in technology and biotechnology. Now, we're beginning to see innovation more broadly, with globalization, connectivity, and the rapid diffusion of technology. These forces should underpin elevated earnings growth, which we believe is the key to driving price appreciation over the long term.
Thakor: Looking outside the U.S., most people appreciate the growth potential in emerging markets. However, they might not appreciate tomorrow's drivers, and their potential. The 2010s were a "catch-up" story about the rising middle class. Now and in the future, we believe growth will be driven by pro-growth reforms and technology-driven innovation.
Another part of our opportunity set is in developed markets, where indexes are dominated by slow-growing, unexciting businesses. Here we think there are several hidden gems. One example is in Europe, where we're seeing opportunities in select areas such as ecommerce, semiconductors, and the digitalization of complex industries such as autos, prescription drugs, and real estate.
We have been investing in innovative growth businesses globally for over a decade. One thing we've learned is that the U.S. doesn't have a monopoly on innovation. Growth exists, if you know where—and how—to look for it.
Investment Results (%)
International Growth vs. MSCI All Country World ex-USA Index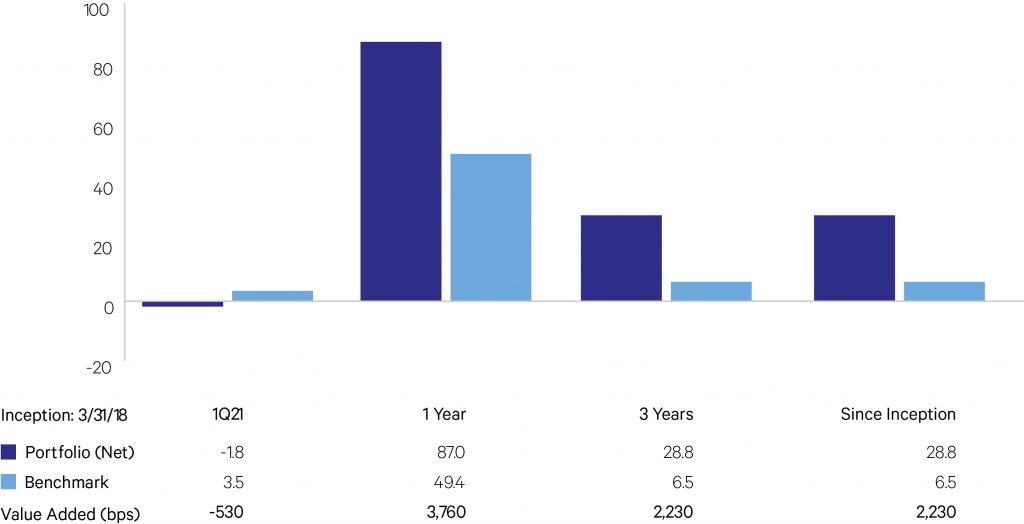 What do you look for when buying a business?
Thakor: History tells us that, over the long run, earnings drive price appreciation. It also tells us that most value created accrues to a select group of winners. Based on these observations, we have a set of guiding principles that leads us to seek those few special businesses capable of sustaining high earnings growth over the long term.
Often, our criteria lead us to businesses that are at the intersection of change, innovation, and commercialization, and our top five weights—which account for a quarter of the portfolio—reflect that. Sea is changing how people bank, shop, and entertain themselves in Southeast Asia; Taiwan Semiconductor's chips are the foundation for connectivity and digitalization; Shopify's global ecommerce platform is enabling the next generation of retail; ASML's lithography equipment is at the chokepoint of the global semiconductor industry; and Adyen's payments infrastructure is enabling efficient cross-border, omnichannel commerce for the world's retailers.
Our two purchases this year—Auto1 and Zur Rose—further reflect this point. Both are digital leaders, poised to disrupt the European car and pharmacy markets, respectively. Less than 1% of the €700 billion European used-car market is online today, yet 40% of prospective buyers would consider transacting online. Similarly, Europe's prescription drug market is less than 2% penetrated, yet lends itself well to ecommerce, given high average selling prices, lightweight products, low return rates, and consistent order frequency.  These are just two examples of long-duration secular opportunities where lesser-known businesses (you won't find them in the benchmark) are well positioned, in our view, to drive significant earnings growth over the next decade.
How do you mitigate some of the risks that you come across?
Haque: We take a business-owner's mentality, so we care more about our businesses' long-term earnings power than we do about their stock-price volatility in the short term.
The risk we really care about is anything that can erode our businesses' earnings power, so we keep a close eye on things like competition, regulation, and saturation. We are also mindful of the invisible risk—opportunity cost—that can really affect long-term outcomes given the asymmetric nature of stock returns.
Today, the biggest problem we face isn't what to sell, it's what—if anything—to add. Innovation is creating a lot of new, interesting opportunities, but ultimately we only have room for around 35 holdings. It's a good problem to have. 
Disclosures:
The views expressed are the opinion of Sands Capital Management and are not intended as a forecast, a guarantee of future results, investment recommendations, or an offer to buy or sell any securities. The views expressed were current as of the date indicated and are subject to change. This material may contain forward-looking statements, which are subject to uncertainty and contingencies outside of Sands Capital's control. Readers should not place undue reliance upon these forward-looking statements. There is no guarantee that Sands Capital will meet its stated goals. Past performance is not indicative of future results. The specific securities identified and described do not represent all of the securities purchased, sold, or recommended for advisory clients. There is no assurance that any securities discussed will remain in the portfolio. You should not assume that any investment is or will be profitable. References to portfolio companies provided for illustrative purposes only. The companies identified represent a subset of current holdings in the International Growth Strategy. They were selected based on top 5 holdings weight and YTD purchases as of 3/31. GIPS® Reports and additional disclosures for the related composites may be found in the Sands Capital GIPS Report. PT 2020219
Throughout emerging markets, advances in technology are enabling the creation of digital banking solutions that better address evolving consumer preferences and enable billions of the unbanked to access the financial system.
During times of market volatility and selling, we remind our clients and one another that we need to always look forward—past these phases of market panic—to focus on the long term, where we believe value is dictated by fundamentals.
Life Sciences Revolution Unlocks Potential in Tools, Diagnostics, and Therapeutics
We believe this life sciences revolution has created exciting opportunities for select businesses to create value and generate wealth for long-term investors.
Our latest thinking on innovation investing, long-term capital, and culture.
Something has gone wrong, check that all fields have been filled in correctly. If you have adblock, disable it.
The form was sent successfully