During times of market volatility and selling, we remind our clients and one another that we need to always look forward—past these phases of market panic—to focus on the long term, where we believe value is dictated by fundamentals.
April 2022
Recession fears, rising interest rates, persistently high rates of inflation, and ongoing geopolitical conflict have unsettled financial markets, prompting heavy selling and volatility. This is not the first time panic has unnerved investors as they braced for a possible economic downturn, changing monetary regimes, or a new world order, and it won't be the last.
We are well aware that rising interest rates traditionally hit growth stocks the hardest and acknowledge that a recession, if it materializes, could further pressure the stock prices of some of our businesses. Indeed, over the past five months, we have seen a rotation out of high-valuation growth stocks, which led the MSCI ACWI Growth Index to lag the MSCI ACWI Value Index by the widest margin since 2001.1 However, we don't want to fall into a trap of selling into the panic, nor do we want to attempt to predict where the economy and market will go.
U.S. growth equities weren't solely to blame for the declines in global averages, as emerging market growth stocks significantly underperformed their value counterparts as well. In fact, the MSCI Emerging Markets Growth Index has now traded lower for three consecutive quarters and has underperformed the MSCI Emerging Markets Value Index for six straight quarters.2
The shift in market leadership throughout 2021, and so far this year, illustrates how unpredictable markets can be in the short term. Exogenous factors and sentiment can have an outsized and often unpredictable influence on stock price movements. We have observed that in times of stress, the market shortens its time frame.
Although it is difficult to see a near-term catalyst for a growth equity bounce-back, and things could get a little worse before they get better, we believe we are nearer the end of this growth equity market correction than the beginning. In our view, many good businesses have been oversold, and we believe many offer even better return potential at current prices.
During times of volatility and selling, we remind our clients and one another that we need to always look forward—past these phases of market panic—to focus on the long term, where we believe value is dictated by fundamentals. We are business owners, not stock traders, and invest as such, evaluating a business' potential long-term growth trajectory. Nothing that we have seen over the past four months has changed our views of the secular trends that we believe will ultimately define many companies of the future.
In the Long Run, it's Fundamentals That Drive Stock Prices
At Sands Capital, we seek to deliver alpha over rolling three- and five-year periods by investing in businesses that we believe can generate sustainable, above-average growth. We have observed that fundamentals tend to drive stock prices over longer periods, and most market gains are attributable to a small number of companies. Therefore, we organize our process to seek and selectively own those few businesses that we expect to benefit over the long term. While sentiment and other external factors can affect share prices in the near term, we believe that if our estimates are directionally correct about the business fundamentals themselves, we will be positioned to meet the long-term wealth creation goals of our clients.
In general, we seek to own businesses that can do well in all market environments. Often, this means seeking to invest in businesses that are driving or benefiting from secular change that's not dependent on the economic cycle. The fortunes of cyclical businesses can rise and fall because of factors outside their control, such as fluctuations in commodity prices or interest rates. Conversely, secular change can occur regardless of what's happening in the real economy and can underpin earnings growth across economic cycles.
This dynamic can be seen during times of economic and market stress. For example, the secular growth businesses in our Select Growth strategy—which is our oldest strategy and has seen the most market and economic cycles—displayed resilience during the 2008 to 2009 Great Financial Crisis, the most challenging global economic shock in the twenty-first century before the COVID-19 pandemic. Many of the businesses continued to produce strong business results—generating positive earnings growth for the strategy on a weighted-average basis—despite the broader economy's contraction.
While the share prices of Select Growth's businesses were no less susceptible to the market selloff in the short term, the durability of their business results remained intact in subsequent years. We saw a similar situation in 2020—the other calendar year since 1997 with a calendar-year economic contraction—as the global pandemic brought the world's economy to a grinding halt.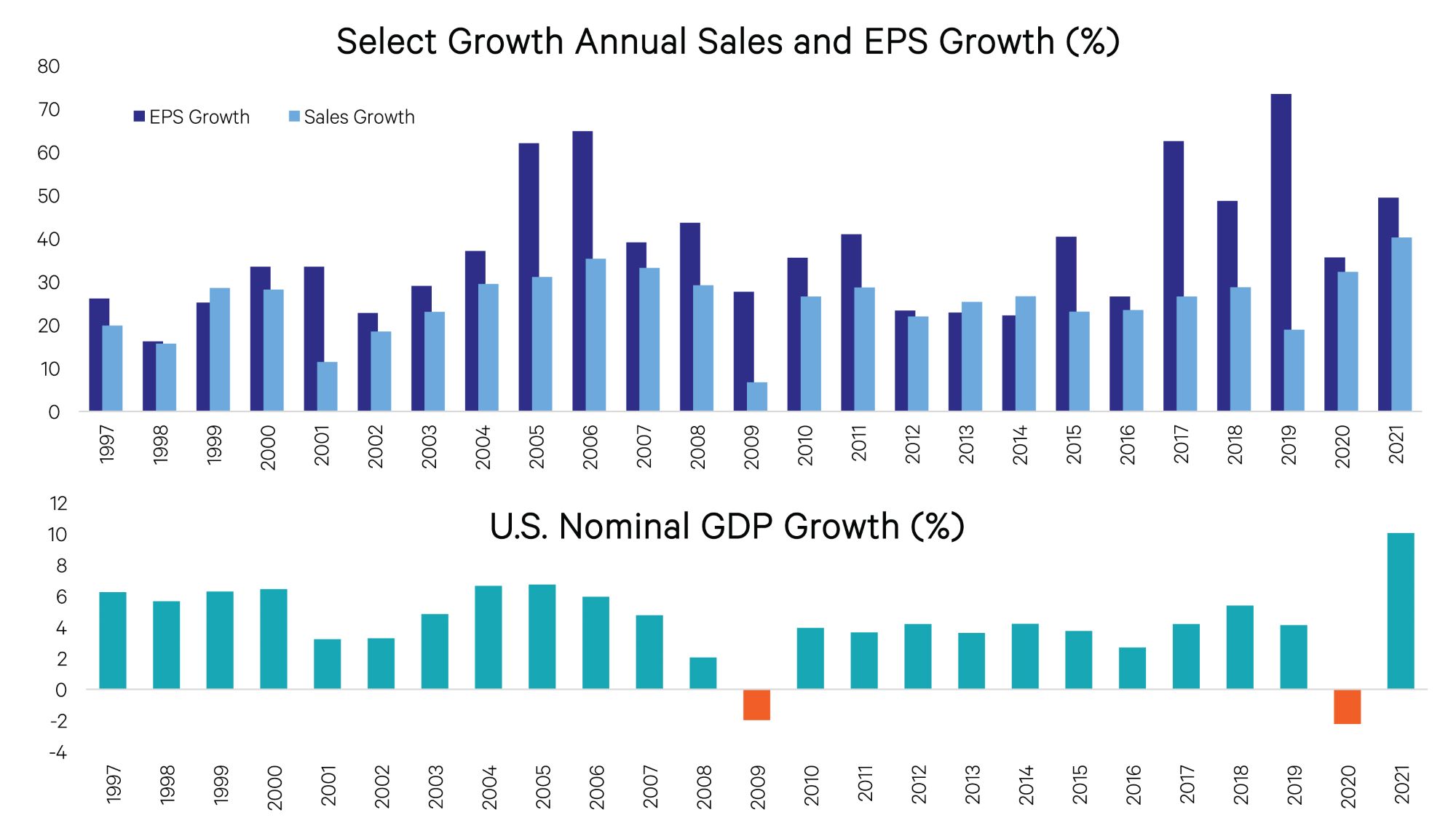 Source: Sands Capital, FactSet; data as of 12/31/21. Information shown is for the Select Growth model portfolio. Select Growth weighted averages are calculated based on portfolio holdings as of December 31 each calendar year. Annual EPS growth based on most recent fiscal year's non-GAAP earnings growth for portfolio holdings as of 12/31 each calendar year. Outliers are capped at -100 percent and +350 percent. Annual sales growth is based on most recent fiscal year's GAAP sales growth for portfolio holdings as of 12/31 each year. Outliers are capped at -100% and +100%. U.S. nominal GDP growth measured as year-on-year change in nominal GDP (not seasonally adjusted).
Volatility is Part of the Playbook for Long-term Investors
We are confident that our portfolio businesses can become much larger over the next five years as their growth compounds. We will accept short-term volatility in their share prices so that our clients have the potential to benefit from the opportunity they present to create wealth over the long term.
Since the end of 2021, we've been re-underwriting and stress-testing our investment cases. In some cases, this has led us to replace some portfolio holdings with new opportunities. In others, it has led us to add to existing businesses where current prices have dislocated from our assessment of long-term value. But overall, even facing a recessionary environment in the near term, we're confident in our belief that our businesses will become much larger and, in turn, can create value for our clients.
We also believe that valuations for our businesses are more attractive than they've been in years. Given our philosophy and approach, we prefer to use an expected returns framework to assess a company's value. This framework forecasts a stock price five years from today, based on our estimate of the business' earnings and earnings multiple. We then annualize the change between that year-five price and today's price to arrive at an "expected return." This figure isn't meant to be a precise estimate, but rather a directional tool to help us assess relative opportunity. Today, our expected returns are higher than they've been in recent memory and, importantly, don't require heroic assumptions about earnings growth or terminal multiples.
We don't know what the next quarter or year will bring. What we do believe, however, is that enterprise digitalization, the proliferation of fintech, and innovative breakthroughs in life sciences will persist regardless of what happens to the broader economy. We'll continue to focus on what we believe matters most for our long-term investment horizon: seeking durable, above-average growth underpinned by powerful secular change.
1 The MSCI ACWI Growth Index captures large and mid-cap securities exhibiting overall growth style characteristics across 23 developed markets (DM) countries and 24 emerging markets (EM) countries. The MSCI ACWI Value Index captures large and mid-cap securities exhibiting overall value style characteristics across 23 DM countries and 24 EM countries. DM countries include: Australia, Austria, Belgium, Canada, Denmark, Finland, France, Germany, Hong Kong, Ireland, Israel, Italy, Japan, Netherlands, New Zealand, Norway, Portugal, Singapore, Spain, Sweden, Switzerland, the UK, and the United States. EM countries include: Brazil, Chile, China, Colombia, Czech Republic, Egypt, Greece, Hungary, India, Indonesia, Korea, Kuwait, Malaysia, Mexico, Peru, Philippines, Poland, Qatar, Saudi Arabia, South Africa, Taiwan, Thailand, Turkey, and United Arab Emirates.
2 The MSCI Emerging Markets Growth Index captures large and mid-cap securities exhibiting overall growth style characteristics across 24 EM countries (listed above).
Disclosures:
The views expressed are the opinion of Sands Capital and are not intended as a forecast, a guarantee of future results, investment recommendations, or an offer to buy or sell any securities. The views expressed were current as of the date indicated and are subject to change. This material may contain forward-looking statements, which are subject to uncertainty and contingencies outside of Sands Capital's control. Readers should not place undue reliance upon these forward-looking statements. There is no guarantee that Sands Capital will meet its stated goals. Past performance is not indicative of future results. All investments are subject to market risk, including the possible loss of principal. A company's fundamentals or earnings growth is no guarantee that its share price will increase. You should not assume that any investment is or will be profitable. GIPS® reports and additional disclosures for the related composites may be found in the Sands Capital GIPS Report. PT# 20220134
Finding Opportunity Beyond Volatility
While we believe we own businesses that can stand the test of time, periods of volatility offer an opportunity to revisit, challenge, and build fresh and renewed conviction in all of our investment cases.
Today, we view electrification, or the shift from vehicles with internal combustion engines to those powered by batteries, as one of the most important secular trends of the next decade.
Uncovering Long-term Opportunity in a Short-sighted Market
As the worst sell-off in our 30-year history ensues, we are reflecting on our investment cases and the expected returns of our businesses, which we believe are more attractive than they have been in years.