Finding Secular Growth in a Cyclical Market
Companies that are poised to capitalize on transformative secular trends may have outsized potential to sustainably generate above-average earnings and revenue.
March 2022
We don't try to predict where the market will head. To us that seems a fool's errand. Instead, we look beneath the surface to seek companies that have the potential to sustainably generate above-average revenue and earnings growth in the years ahead.
Most often, we believe these above-average growth opportunities are in businesses that are poised to capitalize on powerful secular trends that are transforming industries regardless of the direction of the broader economy.
The Appeal of Durable Growth
We seek to own businesses that can make their own weather, instead of those that are driven by the wind. Often, this means investing in businesses that are driving or benefiting from secular change that's agnostic to the economic cycle. Cyclical impacts can see their business fortunes rise and fall due to factors outside their control, such as commodity prices or interest rates.
Conversely, secular change can occur regardless of what's happening in the real economy, and can underpin earnings growth across economic cycles.
This dynamic has been seen during times of economic and market stress. For example, the secular growth businesses in our Select Growth strategy displayed resilience during the 2008–2009 Great Financial Crisis, the most challenging global economic shock in the twenty-first century before the COVID-19 pandemic. Many of the businesses continued to produce strong business results—generating positive earnings growth for the strategy on a weighted-average basis—despite the broader economy's contraction.
While the share prices of Select Growth's businesses were no less susceptible to the market selloff in the short term, the durability of their business results remained strong in subsequent years. We saw a similar situation in 2020, as the global pandemic brought the world's economy to a grinding halt.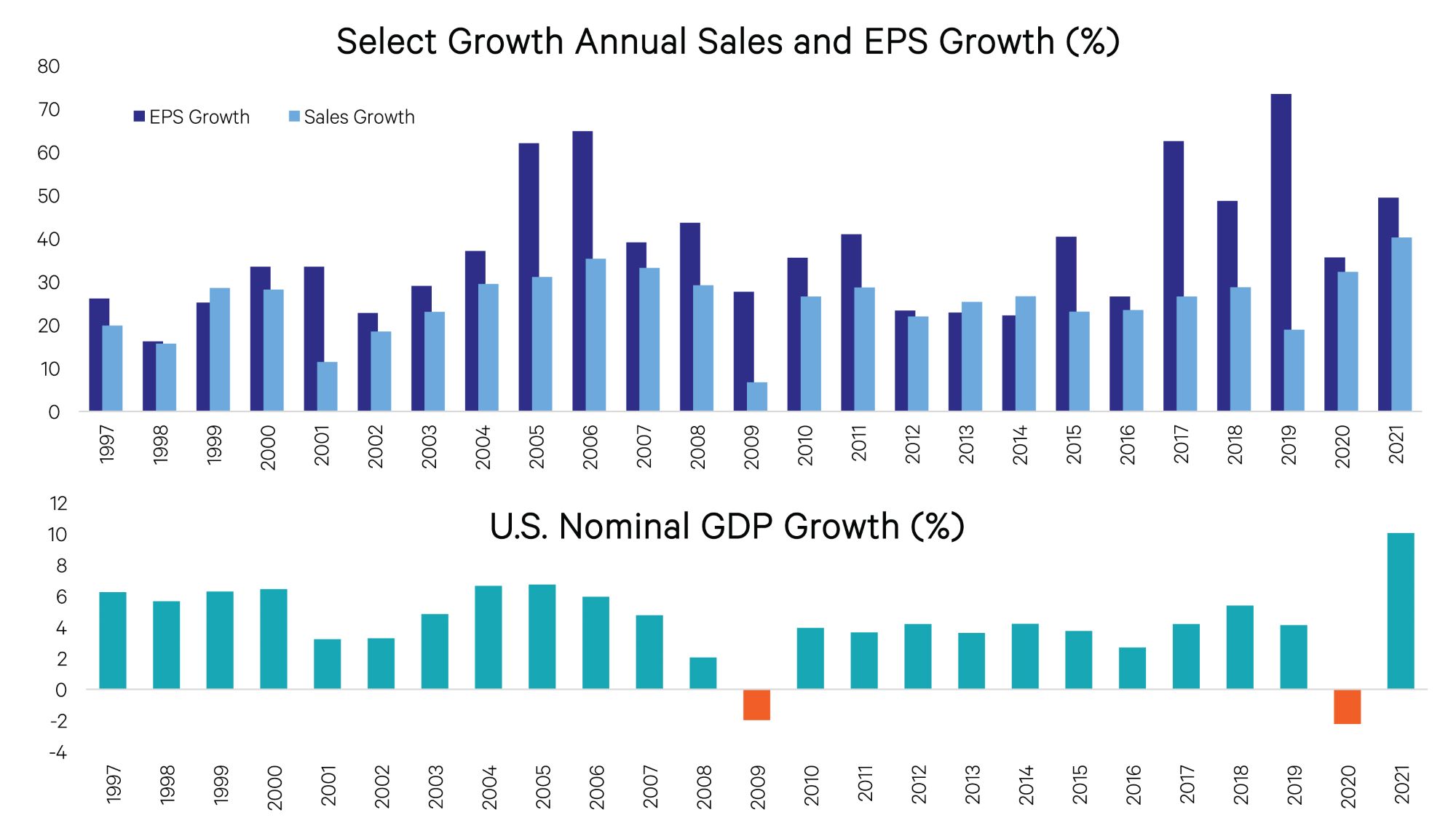 We are confident that our portfolio businesses can become much larger over the next five years as their earnings growth compounds. We will accept short-term volatility in their share prices so that our clients have the potential to benefit from the opportunity they can present to create wealth over the long term.
Our conviction in the portfolio comes from our selection of businesses that we believe drive or benefit from powerful secular shifts and have highly scalable business models.
Powered by Change
The secular growth businesses we prefer to own tend to fall in one of two categories:
Innovation and disruption: businesses transforming industries through new products and services
Needs over wants: businesses that serve critical needs, regardless of market environment.
These businesses' capacities to increase earnings tend to be organic and independent of economic factors. We like to say they're capable of making their own weather.
Secular Trends Driving Growth Today
Many of our businesses benefit from one or more of the following secular trends:
Emerging Internet Leaders: Digitalization of the economy continues, and the next generation of internet businesses are disrupting the status quo by reducing transactional frictions, increasing transparency, and eliminating inefficiencies. These companies are focusing on large verticals and building industry-specific solutions that result in a better customer experience while reinforcing their competitive moats.
Financial Services Digital Revolution: The combination of modern technology and disruptive customer acquisition models are fundamentally rearchitecting how financial products are designed, manufactured, and distributed, with software displacing paper and bank branches in each stage of the process.
New technologies are enabling broader access to basic financial products and adding innovative layers of intelligence and automation. We see value accruing to both companies creating a new generation of digitally native financial infrastructure as well as companies leveraging that infrastructure to build differentiated experiences for end users.
Life Sciences Innovation: Over the next decade, we view genes and genomics, minimally invasive technologies, consumerization of health care, the humanization of pets, and globalization of innovation as the most important secular trends in life sciences.
We focus on investing in businesses that are changing the standard-of-care, providing best-in-class "picks and shovels" to biopharma and life science researchers, and meaningfully improving access and cost in healthcare delivery.
Shifting IT Spend from Maintenance to Agility: Information technology spending continues to shift toward innovations that make enterprises more agile and efficient.
In the last decade, cloud-based software disrupted legacy, on-premise systems within well-defined market opportunities. The next generation of SaaS leaders is enabling new businesses and processes, serving as the enablers of an increasingly digital-first economy. These businesses are often typified by user-driven adoption, consumption-based licensing, and competitive advantages driven by network effects and ecosystem partners.
Long-term View
These foundational underpinnings of future growth don't make our businesses' share prices immune to volatility in the short term. However, history shows us that earnings growth can drive long-term value creation, and we expect our ability to remain steadfast in our research approach and to maintain a long time horizon should enable us to realize our businesses' growth potential over time, regardless of temporary disruptions.
Disclosures:
The views expressed are the opinion of Sands Capital and are not intended as a forecast, a guarantee of future results, investment recommendations, or an offer to buy or sell any securities. The views expressed were current as of the date indicated and are subject to change. This material may contain forward-looking statements, which are subject to uncertainty and contingencies outside of Sands Capital's control. Readers should not place undue reliance upon these forward-looking statements. All investments are subject to market risk, including the possible loss of principal. There is no guarantee that Sands Capital will meet its stated goals. Past performance is not indicative of future results. Differences in account size, timing of transactions and market conditions prevailing at the time of investment may lead to different results, and clients may lose money. A company's fundamentals or earnings growth is no guarantee that its share price will increase. You should not assume that any investment is or will be profitable. GIPS® Reports and additional disclosures for the related composites may be found in the Sands Capital GIPS Report.
Insights Gleaned from Past Bear Markets
Sands Capital portfolio managers reflect on five powerful lessons they have learned while investing through past bear markets.
Investing Through a Difficult Year
After a difficult year for markets in 2022, Sands Capital's portfolio managers are confident that investors will be able to benefit from long-term trends like artificial intelligence, cloud computing, and gene sequencing.
As AI/ML Models Become More Prevalent, So Too Must Risk Management
As advancements in artificial intelligence and machine learning allow for richer analysis and insights from data, companies are investing more into the people, processes, and products that make up the AI/ML ecosystem.