Finding Secular Growth in a Cyclical Market
Companies that are poised to capitalize on transformative secular trends have outsized potential to sustainably generate above-average earnings and revenue.
January 2020
We don't try to predict where the market will head. To us that seems a fool's errand. Instead, we look beneath the surface in an effort to seek companies that have the potential to sustainably generate above-average earnings and revenue growth in the years ahead.
Most often, we believe those opportunities are in businesses that are poised to capitalize on powerful secular trends that are transforming industries regardless of the direction of the broader economy
The Appeal of Durable Growth
The secular growth businesses we favor are distinct from cyclical growth businesses. Cyclical growth businesses tend to be especially sensitive to factors such as the cost of capital, which in turn is tied to interest rates.
An economic expansion, bolstered by low interest rates, has supported many growth businesses over the last 10 years—regardless of the fundamental quality of their growth. We expect any economic slowdown will reveal the relative strength of high-quality, secular growth businesses, particularly those with globally scalable business models. Based on our experience, these will be the businesses to own through market cycles.
For instance, the secular growth businesses in our Select Growth strategy displayed resilience during the 2008–2009 Great Financial Crisis, the most challenging global economic shock in the twenty-first century before the 2020 pandemic. Many of the businesses continued to produce strong business results—generating positive earnings growth for the strategy on a weighted-average basis—while the broader Russell 1000 Growth Index saw its weighted-average profits decline. While the share prices of Select Growth's businesses were no less susceptible to the market selloff in the short term, the durability of their business results remained intact in subsequent years [Figure 1].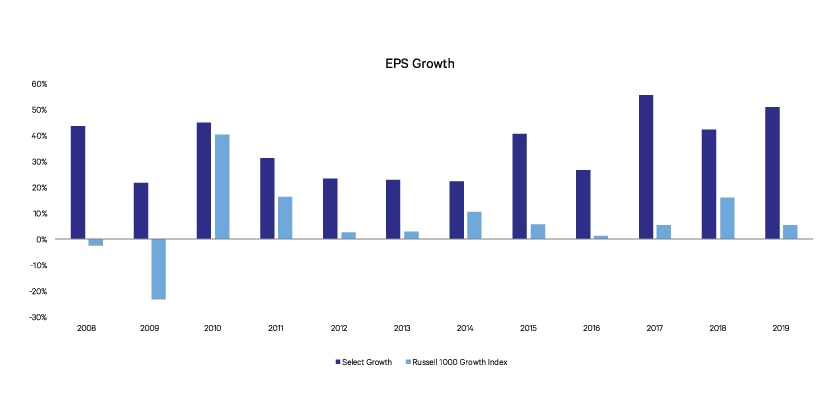 We are confident that our portfolio businesses can become much larger over the next five years as their earnings growth compounds. We will accept short-term volatility in their share prices so that our clients have the potential to benefit from the opportunity they present to create wealth over the long term.
Our conviction in the portfolio comes from our selection of businesses that we believe drive or benefit from powerful secular shifts and have highly scalable business models.
Powered by Change
The secular growth businesses we prefer to own tend to fall in one of two categories:
Innovation and disruption: businesses transforming industries through new products and services
Needs over wants: businesses that serve critical needs, regardless of market environment.
These businesses' capacities to increase earnings tend to be organic and independent of economic factors. We like to say they're capable of making their own weather.
Secular Trends Driving Growth Today
Most of our businesses benefit from one or more of the following secular trends:
Data-Driven Decision Making
We believe companies with large, proprietary pools of data—and tools that use this data to create targeted content—have sizable monetization opportunities. Advertisers have been using data to target customers for years. Other large markets, such as business-to-business selling, remain more nascent opportunities. Companies are beginning to use predictive analytics to generate insights from their own pools of data.
Formalization of Retail
The shift from fragmented industries to consolidated operators offers powerful opportunities in many emerging economies. Formal retailers with compelling brands and/or store formats have the opportunity to take share and consolidate the market, particularly as consumer incomes rise and demand increases for better quality and greater selection.
Financial Penetration
Approximately a third of the world's adult population remains unbanked, and nearly all of them live in emerging markets. New technologies are enabling access to basic financial products and services. Businesses serving the needs of the growing middle class should benefit from increasing demand for consumer financing.
Hard and Soft Infrastructure
Substantial infrastructure investment and development are required to enhance productivity and stimulate demand. We see several countries beginning to enact pro-growth policies that should help sustain future domestic growth. Opportunities exist in both hard infrastructure—such as new roads and airports—and in soft infrastructure, which includes education and healthcare.
Rise of Internet Penetration 
Rising internet connectivity and mobile device penetration are spurring broad-based economic activity in emerging markets. Commercial opportunities—including ecommerce, online travel, and ride sharing—are being enabled by new cloud, logistics, and enterprise solutions. The internet is changing how people consume information, leading to opportunities for advertisers and digital media providers.
Retail Revolution
Ecommerce is the fastest-growing segment of retail sales, but still only accounted for about 15 percent of total global retail sales in 2019, according to data aggregator Statista. Omnichannel retailing allows brands to provide customers a seamless experience by integrating online and offline storefronts. Consumers are more empowered than ever before with ubiquitous information and nearly unlimited selection. This is driving increased demand for more tangible value from what and how they buy.
Union of Healthcare and Technology
Advances in healthcare and technology are enabling companies to run clinical trials and bring drugs and devices to market more efficiently than ever before. Innovative treatments are being developed for patients with diseases that were previously incurable. Medical devices are becoming increasingly sophisticated and are displacing old standards of care.
Globally Scalable Business Models
Our portfolio businesses tend to have business models based on intellectual property and/or relatively low capital requirements and costs of goods. These qualities typically make their business models highly scalable. The firms may realize greater efficiencies across their operations as they expand, typically translating into expanding profit margins, low debt levels, and earnings growth expected to outpace their sales growth over time.
Long-term View
These foundational underpinnings of future growth don't make our businesses' share prices immune to volatility in the short term. Our ability to remain steadfast in our research approach and to maintain a long time horizon should enable us to realize our businesses' growth potential over time, regardless of temporary disruptions.
Disclosures:
The views expressed are the opinion of Sands Capital Management and are not intended as a forecast, a guarantee of future results, investment recommendations, or an offer to buy or sell any securities. The views expressed were current as of the date indicated and are subject to change. Past performance is not indicative of future results. A company's fundamentals or earnings growth is no guarantee that its share price will increase. You should not assume that any investment is or will be profitable. All company logos and website images are used for illustrative purposes only and were obtained directly from the company websites. Company logos and website images are trademarks or registered trademarks of their respective owners and use of a logo does not imply any connection between Sands Capital and the company. GIPS®-compliant presentations and additional disclosures for the related composites may be found at Sands Capital Annual Disclosure Presentation.
Select Growth calculations are based on the Tax-Exempt Institutional Equity Composite (TEIEC). The performance shown is compared to the Russell 1000® Growth Index (R1000G), a broad-based securities market index. The Russell 1000® Growth Index is a subset of the Russell 1000® Index, a capitalization-weighted, price-only index which comprises 1,000 of the largest capitalized U.S.-domiciled companies and are included in the Russell 3000® Index. The Russell 1000® Growth Index measures the performance of those Russell 1000® Index companies with higher price-to-book ratios and higher forecasted growth values. Performance results prior to January 1, 2002, were measured against the S&P 500 Index. The benchmark was changed to be more representative of the composite strategy, however, information regarding the comparison to the S&P 500 is available upon request. Broad-based securities indices are unmanaged and are not subject to fees and expenses typically associated with managed accounts or investment funds. Investments cannot be made directly in a broad-based securities index. Sands Capital Management may invest in securities not covered by the Russell 1000® Growth Index.
Ecommerce: A Play in Multiple Acts
Ecommerce leaders are moving into adjacent businesses that we think give them potential for second and third "acts" that lengthen and expand their runways for growth.
Here's Why Select Growth Businesses Can Continue to Add Value
Wes Johnston, Co-Portfolio Manager, Select Growth strategy at Sands Capital shares his take on the value rally in this question and answer session.
Seeking Digital Disruptors in International Markets
Ashraf Haque and Sunil Thakor, co-portfolio managers of Sands Capital's International Growth Portfolio, dive into the opportunity set that can be found overseas.