To us, the concept of quality is linked to a company's ability to increase its market share at the expense of competitors, to sell ever more value-adding goods and services, and to expand its leadership in attractive business spaces through innovation and disruption.
January 2022
During periods of acute market volatility, it is not surprising that investors seek strong assets with defensible businesses or secure long-term values. When markets begin to sell off, investors tend to panic, and we have observed that the number of managers marketing "quality" growth strategies ticks higher.
However, as a long-term investor in innovative growth companies, we know that dealing with volatility is part of our job. We also know that the idea of quality and its integration into an investment strategy is highly subjective and varies by manager and investment process.
For us, the concept of quality is inextricably linked to companies that have the capacity to generate sustainable, above-average growth over time. We believe quality companies are those that can increase their market share at the expense of competitors, sell ever more value-adding goods and services, and expand their leadership in attractive business spaces through innovation and disruption. We believe such businesses are likely to deliver increased cash flows and earnings back to their investors and in doing so, are likely to generate above-average investment outcomes. For us, such outcomes are the essence of quality.
Quality Inputs Versus Quality Outcomes
Over the past decade or so, there has been an explosion of methods to quantify investment factors, including quality. Independent quantitative analysts have crunched massive volumes of historical data and conducted extensive back-testing in attempts to break the genetic code of quality. By codifying quality metrics into different measurable outputs, they seek to enable investors to measure and calibrate the quality bias in their portfolios. Index publishers use these same factors to create benchmarks intended to democratize low-cost access to quality. Though the rubrics used to define quality differ somewhat by factor provider, they share a set of metrics that often includes return on equity, financial leverage, stability of earnings and sales growth, net profit margins, and return on invested capital.
As fundamental, business-focused investors, we do not initiate our investments based on factor analysis, nor do we quantitatively apply factor-based overlays to our portfolio construction process or weighting of our portfolio businesses. However, as analysts we are eager to understand any available information that might help our client outcomes. As a result, we regularly review factor attribution and many other common analytical tools. As one might expect, our growth exposure is off the chart, and our value exposure is the inverse. What's less intuitive however, is that our quality exposure is average to low.
We were initially puzzled by this dichotomy and struggled to understand how our portfolio of businesses, which we consider leaders, innovators, and growing enterprises, did not have a higher correlation to quality. We identified two clear reasons.
The first relates to the criteria used to measure quality. We don't believe that "stability" in past financial metrics is a sign of quality. Rather, stability could be a sign that a company has not made innovations or changes that alter its short-term operating metrics, or perhaps, that the industry that the company operates in has been relatively static and free from disruption.
The second, and perhaps more important, reason relates to the period of measurement. Any historical analysis will rely on what has happened, over one or many years. However, we believe the objective of investing, particularly growth investing, is to identify what will happen. On this point, our definition of quality diverges quite substantially from the quantitative definition, which focuses on stability and high (past) return on capital.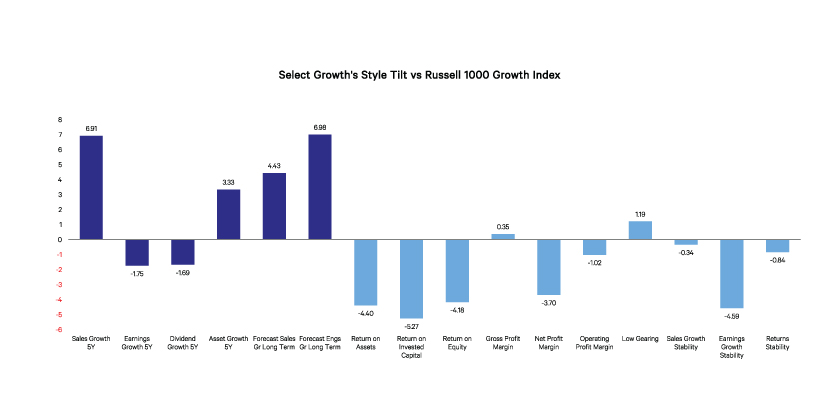 But before we delve further into our own definition of quality, we should first understand why quality matters. Many academic and industry research studies indicate that "high quality" outperforms "low quality" over long periods. So, given our lower portfolio exposure to quality factors, one might expect our strategies to underperform a factor-neutral benchmark and most certainly a high-quality benchmark or index. However, over our 30 years of investment experience, we have found that is not always the case.
It's not unusual that a fast-growing business operates at a razor-thin profit margin or even a loss in its early days, during which it often reinvests earnings to fuel future growth and achieve critical scale. Therefore, these companies are not earning the full return on the assets they employ and may appear to have lower margins and returns.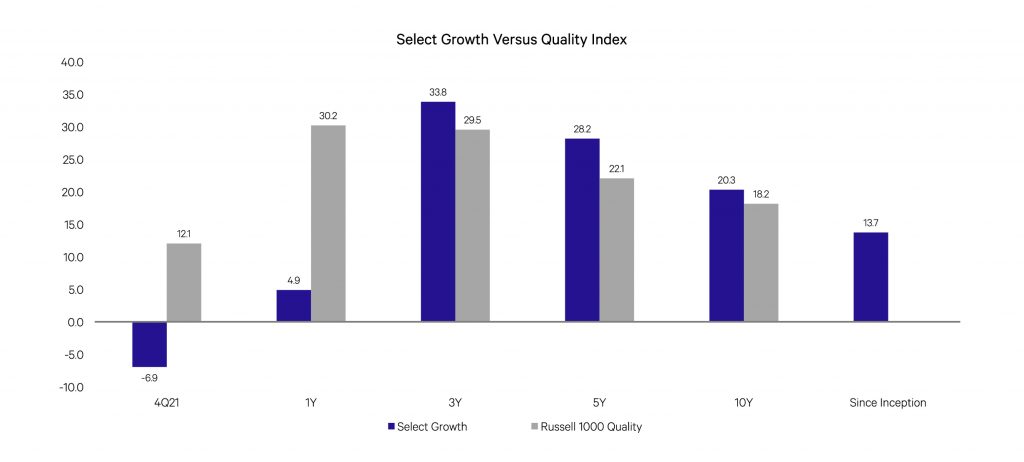 While we fully expect that our companies will screen well on traditional quality metrics when they mature, we'd prefer not to give up the return potential found in early growth stages while we wait for the business to mature and achieve a traditional "quality" rank.
Backward-looking traditional metrics used to assess quality exposure—such as return on invested capital, return on equity, and net profit margin—are not adequate by themselves for assessing future business potential during these early growth stages. This is because they can't anticipate future gains. In contrast, an active manager can seek to anticipate future gains by using a more comprehensive and qualitative analysis. We believe our value as an active manager comes partly from our ability to analyze unquantifiable qualities in fast- growing businesses.
Seeking Truly Exceptional Businesses
We seek to identify truly exceptional businesses that have the capacity to generate sustainable, above-average earnings growth over time. This is the first pillar of our investment philosophy. We use six investment criteria as a compass to seek to identify businesses whose innovative products and services are disrupting existing markets or creating new ones. These businesses are often differentiated leaders in an attractive business space and boast sustainable competitive advantages. We believe owning companies that can effectively "create their own weather" can be a durable approach to add value across different markets and economic cycles.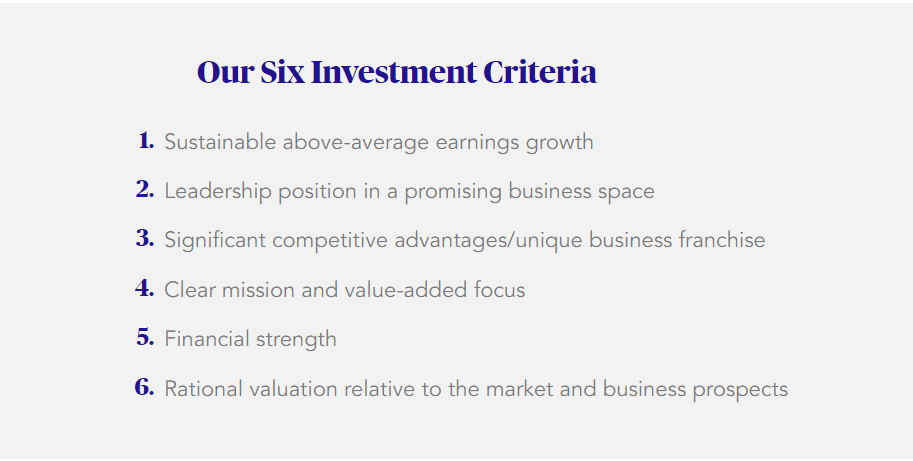 With a global research platform spanning both private and public markets, we strive to identify attractive growth opportunities around the world and at all stages of a company's lifecycle. Our research analysts are students of secular trends that are driving industry transformations. They have honed their ability to recognize—sometimes before the rest of the market—shared patterns and characteristics of companies that are the major leaders or beneficiaries of these changes.
Our analysts are trying to envision the future. That is a creative exercise that involves anticipating how markets, economies, and society will evolve. Often, the path and duration of major paradigm changes are unknowable, and yet the change itself is inevitable. While we may not know how long that evolution will take, we are highly confident that it will happen. That forward-looking qualitative thought process has helped us build the portfolio we own today.
We find fast-growing businesses across sectors and geographies. Many lie in the intersections of technology and life science, commerce, and finance and are disruptive innovators that we expect to have long runways of growth. We believe their visionary services or products and innovative business models position them to generate above-average growth rates in the years ahead. In their early stages, however, these businesses, as shown in Exhibit A, do not always measure well on the basis of backward-looking quality attributes.
Finding Opportunity in Paradigm Shifts
Traditional metrics used in quality factor analysis do not identify paradigm shifts. Astute analysts do. We have been investing in technology businesses for nearly 30 years. As a result, we are keenly aware of the value proposition for companies that play a role in digitalizing the economy, a trend accelerated by the pandemic. We have observed a new generation of internet businesses disrupt the status quo as they reduced transactional frictions, increased transparency, and eliminated inefficiencies. Match Group and Square, are among the companies that have altered the landscape with their focus on large verticals and industry-specific solutions that improved the customer experience while creating deep competitive moats.2
The durability, adaptability, and flexibility of these businesses are also hard to capture using traditional "quality metrics." But these variables are very important, especially during crises, such as the current pandemic. Many of the technology-enabled businesses that we describe are often able to use their underlying technology or their direct relationship with their customers to create secondary and tertiary growth drivers.
Our portfolios have many examples of businesses with secondary and tertiary growth drivers. They include cloud infrastructure for Amazon (AWS); autonomous driving for Alphabet (leveraging experience in AI/machine learning); convenience-store delivery for DoorDash (leveraging its restaurant-delivery customer base and driver operations); ecommerce and fintech for Sea (built on its gaming franchise). In all these examples, companies have been able to extend their growth wall and fortify their leadership and competitive advantages by adding an additional growth pillar.3
Another trend we have identified is the shift of IT spending toward innovations that make enterprises more agile and efficient. Unlike the last decade, during which suboptimal legacy processes were replaced by cloud-based software, the next generation of SaaS (software-as-a-service) leaders are enabling new businesses and processes through the layering on of features and ecosystem integration. Fast deployment, scalability, lower total cost of ownership, and easy frequent updates create a compelling customer value proposition.
Twilio, a software-enabled communication platform, has disrupted the market by modernizing communication capabilities, such as voice, messaging, and video, for application developers at a time when many businesses of all sizes are making digital transformation a priority. It continues to be the leader in the market with a developer community of more than 10 million and 250,000 customers.4
The company benefits from a compelling usage-based business model with inherently high incremental margins. However, the company has elected to significantly reinvest in organic product development, acquisitions, and sales and marketing that have enabled it to rapidly expand its suite of products and build its customer base. The resulting lack of profitability as defined by generally acceptable accounting principles is one of the reasons Twilio is not considered to be of high quality, according to factor analysis shown in Exhibit A. Over the longer-term, we expect revenues to grow at a 35 percent compound annual growth rate over the next several years as margins expand significantly due to the underlying unit economics, as well as the continued mix-shift to higher margin products.
Anticipating Human Behavior
Sometimes paradigm shifts are complex, so identifying them involves a nuanced appreciation of cultural norms, changing behavioral patterns, and regional demographics. Our forward-looking thought process, along with expansive in-country consumer panels, helped us see the possibility of a mobile gaming powerhouse becoming the leading ecommerce platform in Southeast Asia.
Sea is a Singapore-based online gaming platform and ecommerce giant with an emerging digital payments and finance service platform.5 The company has only been public for four years, but it is already the most valuable listed company (by market capitalization) in Southeast Asia. Like Twilio, however, it does not rank well on the quality scale. Also, like Twilio, Sea fails to turn a profit because it reinvests its revenues in extending its business scope and entering new markets that are still in the early stages of digital and financial penetration.
A mix of our emerging market experience and investment research into gaming, ecommerce, and digital payment systems attracted us to the opportunity. Experience has taught us that, because of cultural preferences, the local player often has the advantage in emerging markets. From our previous investment work, we appreciated the importance of gaming in Asian culture, so we saw that the gaming business could be a portal into ecommerce.
Based on our findings from extensive consumer panel research, we believed that Sea's Shopee unit would likely become the region's ecommerce leader. We also came to understand how important it was that Shopee was optimized for mobile, not desktop. We believe this detail was likely under-appreciated by much of the market.
Adding a digital payments system was a natural extension to this ecommerce platform. The company set itself up to benefit from a powerful network effect, connecting buyers and sellers in a virtuous circle of scale begets scale. All this was set against low penetration rates in the mobile shopping sphere, which to us meant a long runway for growth.
Sea, like its ecommerce predecessors, is prioritizing revenue growth and market share over profitability. Sea is reinvesting all its free cash in an attempt to build Shopee into the region's ecommerce and digital financial leader, as well as to expand its ecommerce business into attractive markets, such as Brazil, Mexico, and Poland. So while the company has yet to turn an overall profit, its market cap has risen to some $124.08 billion as of December 31, 2021, from about $5 billion at the time of its IPO. At the same time, Sea's absolute net loss widened by 34 percent to $570,981 million as of the third quarter of 2021. Though the company doesn't score well on some traditional quality measures, we believe it will continue to broaden its gaming presence internationally, in addition to expanding its ecommerce and digital payments footprint throughout Southeast Asia and into other markets. In fact, we expect that the company will turn profitable in the next few years.
That Which is Essential …
Many of the characteristics that distinguish fast-growing companies, such as Twilio and Sea, are qualitative. Indeed, measuring them can present a challenge to a short-term-focused industry that's obsessed with numbers and precision. But we believe the characteristics of a business that matter more are those that are uncovered through deep fundamental analysis conducted through a long- term lens and many years of investment experience.
The qualitative nature of evaluating things such as leadership and competitive advantage, in our view, is why they are so often overlooked by traditional measures, or at the very least underappreciated. That is what also creates opportunities for long-term investors. We believe our criteria and investment approach not only steer us toward more sustainable, higher-growth businesses but also toward what, according to our six criteria, we consider to be higher-quality businesses. These metrics may also be affected by the types of businesses we may invest in. For example, once at scale, network effect businesses have been able to defy the traditional laws of mean reversion for much longer than most anticipate because by definition the value of the network grows as each user is added. As a result, the cost of acquiring each additional user declines. This is essentially the inverse of the increasing capital intensity and law of large numbers that typically affect industrial era businesses much more meaningfully. And because these businesses often have poor "quality metrics" during the network effect formation phase, investors focused predominantly on those metrics may miss out on what we believe to be one of the most powerful business models of our time.
The Power of Concentration
Our lower-quality factor exposure (in terms of traditional quality metrics) can be understood by looking at the nature of the companies that we invest in. It also results from our emphasis on constructing a concentrated, conviction-weighted portfolio and our acceptance of short-term volatility in exchange for long-term wealth creation potential, the second and third pillars of our investment philosophy. These aspects of our philosophy are also at odds with quantitative measures of quality.
Exceptional businesses are, by definition, rare. We have found it challenging to find companies that we believe are exceptional and that fit our six criteria. When we find such a business, we want to hold it in a portfolio weight that is large enough to be impactful for our clients. In our Select Growth portfolio, we are disciplined to own just 30 businesses that we believe represent the best growth opportunities.
Notably, some of the quality indexes hold as many as 300 companies, while we currently own about 140 companies globally across all our strategies. Some investors assume that a concentrated portfolio poses a greater risk in terms of higher short-term volatility. Instead, we believe that a portfolio diluted with many holdings may introduce the risk of a permanent loss of capital when the manager doesn't know the portfolio's businesses well enough.
Patience and Perspective
We accept that long-term wealth creation is not a linear process. We are trying to identify companies that have the potential to be exponentially larger in five or more years. However, the path to this growth is often not a straight one—a concept that backward-looking measures of quality fail to capture. Our investment horizon is five or more years. In the interim, a business may have good periods and bad. We expect variability in the short term, because we believe that over our investment horizon, most of our businesses are likely to grow larger than when we first purchased them. In turn, we expect their values will reflect this growth.
However, along the way, these businesses can experience volatility—due to a crisis, decision to increase investment, or a regulatory issue—that can penalize businesses when viewed with a backward- looking lens. And this volatility is often more pronounced in businesses earlier on their growth path. Understanding this dynamic is essential for long-term investors. We focus on trying to understand the strength and duration of the future growth drivers for each business. As a result, we are willing to accept short-term stock price volatility in exchange for wealth creation potential over the long term.
Tilting Toward Quality
Obviously, in these trying times, we all want to be surrounded by quality, but quality is in the eye of the beholder. At Sands Capital, for 30 years, we have consistently used the same six investment criteria to seek to identify the businesses capable of generating sustainable, above-average earnings growth over long periods. We believe that all of our portfolios comprise select groups of businesses that, because of their fit with our criteria, are, in our view, of high quality. We believe that by concentrating our investments in these businesses and owning them at large weights for long periods, we will most successfully meet the long-term wealth creation goals of our clients.
1 StyleAnalytics Definitions:
Growth Factors
+Dividend Growth 5 Year: The average annual growth rate of dividends over a trailing five years.
+Earnings Growth 5 Year: The average annual growth rate of earnings (adjusted for amortizations of intangibles, extraordinary charges and credits) over a trailing five years.
+Sales Growth 5 Year: The average annual growth rate of net sales per share over a trailing five years.
+Asset Growth 5 Year: The average annual growth rate of total assets over a trailing five years.
+Forecast Growth 12M: IBES consensus forecast growth of earnings over the next 12 months.
The IBES 12 Month Forward is calculated on a pro-rata basis from the forecasts for each company's next 2 annual reporting periods.
+Forecast Sales Growth 12M: Consensus forecast growth of sales over the next 12 months. The 12-month growth is calculated on a pro-rata basis from the forecasts for each of the company's next 2 annual reporting periods.
Quality Factors
+Return on Equity: Net income before preferred dividends divided by the book value of shareholders' common equity.
+Return on Invested Capital: (Net income + ((interest expense on debt – interest capitalized) * (1-tax rate))) / average of last year's and current year's (total capital + short term debt & current portion of long-term debt). The Return on Invested Capital measures the profitability of a company as measured by its operating income in relation to the total capital invested in the company.
+Return on Assets: (Net income + ((interest expense on debt – interest capitalized) * (1-tax rate))) / average of last year's and current year's total assets. The Return on Assets (ROA) of a company measures its operating efficiency in terms of the profits generated from its total assets.
+Net Profit Margin: The "net margin", annual net income before preferred dividends (plus policyholders' surplus for insurance companies), divided by annual net sales. This measure attempts to assess the company's potential for profitable, sustained expansion or growth.
+Low Gearing: The negative of debt to equity. Low geared companies can be regarded as being of higher quality as they are less
burdened by debt repayment costs.
+Earnings Growth Stability: This quality factor is calculated as the negative of the standard deviation of earnings growth over the most recent three years of growth data.
+Sales Growth Stability: This quality factor is calculated as the negative of the standard deviation of sales growth over the most recent three years of growth data.

2 The companies identified represent a subset of holdings in the Select Growth portfolio as of 12/31/2021. These were chosen because we believe illustrate what we consider to be examples of a next-generation marketplace. As of 12/31/2021: Match Group is held in Select Growth; Square is held in Select Growth and Global Growth.
3 The companies identified represent a subset of holdings in Sands Capital portfolios as of 12/31/2021. These were chosen because we believe they illustrate what we consider to be examples of how companies have created new drivers of growth. As of 12/31/21: Amazon is held in Select Growth and Global Growth; DoorDash is held in Select Growth and Global Growth; Alphabet is held in Global Growth; Uber is held in Select Growth: Sea is held in Select Growth, Emerging Markets Growth, Global Growth, and Global Leaders.
4,5 Twilio and Sea were identified to represent subset of holdings in Select Growth as of 12/31/21. They were chosen to illustrate how we look beyond traditional quality metrics to find companies we expect to create longer-term value. As of 12/30/2021: Twilio held in Select Growth and Global Growth; Sea is held in Select Growth, Emerging Markets Growth, Global Growth, and Global Leaders.
Disclosures:
The views expressed are the opinion of Sands Capital Management and are not intended as a forecast, a guarantee of future results, investment recommendations, or an offer to buy or sell any securities. The views expressed were current as of the date indicated and are subject to change. This material may contain forward-looking statements, which are subject to uncertainty and contingencies outside of Sands Capital's control. Readers should not place undue reliance upon these forward-looking statements. There is no guarantee that Sands Capital will meet its stated goals. Past performance is not indicative of future results. A company's fundamentals or earnings growth is no guarantee that its share price will increase. Forward earnings projections are not predictors of stock price or investment performance, and do not represent past performance. There is no guarantee that the forward earnings projections will accurately predict the actual earnings experience of any of the companies involved, and no guarantee that owning securities of companies with relatively high price to earnings ratios will cause the portfolio to outperform its benchmark or index. The specific securities identified and described do not represent all of the securities purchased, sold, or recommended for advisory clients. There is no assurance that any securities discussed will remain in the portfolio or that securities sold have not been repurchased. You should not assume that any investment is or will be profitable. GIPS® Reports and additional disclosures for the related composites may be found in the Sands Capital GIPS Report.
Enabling the Data-driven Enterprise
While there is a long road ahead before data-driven decision-making becomes common across organizations, we believe businesses that enable this data stack will be an important area for venture capital investment in the years to come.
Throughout emerging markets, advances in technology are enabling the creation of digital banking solutions that better address evolving consumer preferences and enable billions of the unbanked to access the financial system.
During times of market volatility and selling, we remind our clients and one another that we need to always look forward—past these phases of market panic—to focus on the long term, where we believe value is dictated by fundamentals.
Our latest thinking on innovation investing, long-term capital, and culture.
Something has gone wrong, check that all fields have been filled in correctly. If you have adblock, disable it.
The form was sent successfully