Breaking the Line: Deriving Insights from Outsourcing Pioneers
By observing patterns, we can better envision how the need for flexibility, faster development timelines, and greater efficiency drive outsourcing demand.
October 2021
Back in 1987, when Morris Chang opened the doors of Taiwan Semiconductor, 0.5 percent of the global population had cellphones, computers were just beginning to talk to one another and few people other than those working in basements at the U.S. Department of Defense had ever heard of email or the internet.1 The world was on the cusp of an information revolution, and companies in the semiconductor industry were beginning to understand that it was more efficient to outsource manufacturing than to assemble products in-house.
Chang's efforts to deconstruct the traditional semiconductor manufacturing process transformed the semiconductor industry by enabling exponential increases in the production of computer chips, which over the following decades would become cheaper, smaller, and essentially ubiquitous. Today, a similar transformation is sweeping the biopharmaceutical industry, as contract service providers to drugmakers are leveraging advancements to design, develop, and manufacture products faster, more cost-effectively, and more efficiently than ever before.
Studying the evolution of industries is an important part of what we do as fundamental research analysts. Indeed, as the saying goes, history tends to rhyme as much in the development of industries and business models as it does in the creation of political and social movements. By observing recurring patterns in the transformation of both the semiconductor and biopharmaceutical value chains, we have been better able to envision how the need for enhanced flexibility, faster development timelines, and greater efficiency are driving outsourcing demand while creating potential opportunities for long-term growth investors.
We have all witnessed the volatility that can result from uncertainties related to short-term exogenous factors, such as the direction of interest rates, job creation, the persistence of the coronavirus, and a changing regulatory environment. Analyzing the long-term secular trends driving industry transformation can provide long-term insights into value creation that investors focused on the short term tend to miss.
Two Industries That Are Transforming Our Lives
Semiconductors:

The semiconductor industry has transformed our lives since its inception in the 1960s. Today, computer chips are the foundation of our digital life, powering some of the most important technology trends of our day, including artificial intelligence, 5G cellular technology, autonomous driving, and the Internet of Things. The average person in the United States has about five connected electronic devices, and we expect that number to increase by multiples over the next decade.2

At its onset, the semiconductor industry was highly consolidated vertically. Chip companies developed their own design software as well as manufacturing equipment and plants. Everything was done in-house. The industry grew exponentially as the number of transistors on a microchip doubled every two years, following the trajectory of Moore's Law. As semiconductor demand shifted from data processing (personal computers, enterprise data centers) and communications (mobility, network rollout) to new generations of technology, the supply chain fragmented under the weight of the tremendous capital investment and research and development (R&D) needed to achieve the desired high-volume manufacturing yield.3 Over the past 40 years, we have seen the cost to build a semiconductor foundry explode. The increasing complexity has required a level of capital intensity that has pushed construction costs, which once ran in the 10s of millions of dollars, into the 10s of billions of dollars. Only the largest outsourced providers, such as Taiwan Semiconductor, have been able to afford such outlays.4 As a result, these outsourcers have drawn the business of chip design companies that benefit from the economies of scale that the large outsourcers are able to provide across various parts of the semiconductor value chain to create products faster, better, and more cheaply.
SEMICONDUCTORS VALUE CHAIN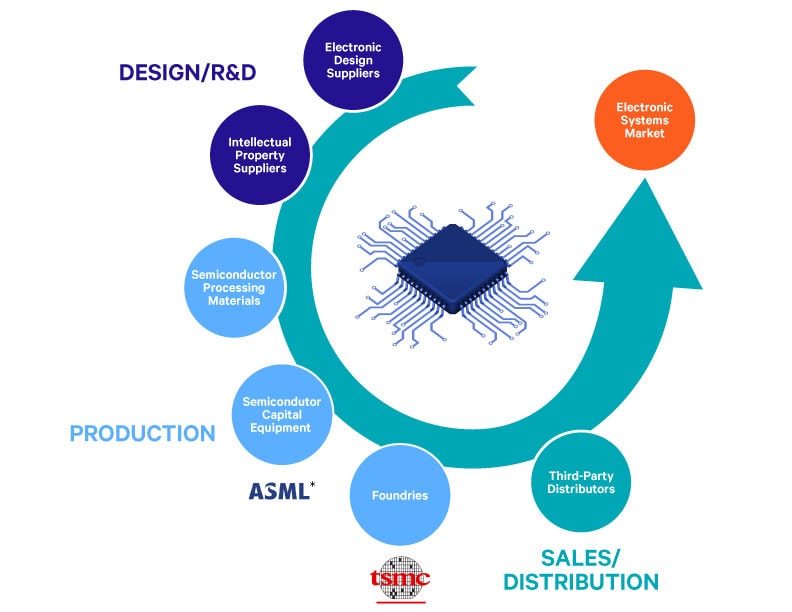 Businesses such as Dutch semiconductor capital equipment vendor ASML began to gain near-monopoly status along this fragmented supply chain as its solutions required intense amounts of R&D and a highly specialized supply chain.

ASML, formed in 1984, makes lithography equipment that is fundamental to the fabrication of an integrated circuit. It assembles some of the most sophisticated pieces of equipment manufactured by humankind, which unsurprisingly has required large investments in equipment and R&D. Its complex optical system harnesses the light necessary to print tiny patterns on silicon. Through the insertion of a mirror, the device can achieve a 20 picometer (trillionth of a meter) degree of accuracy. ASML has solidified a near-monopoly position because it is the only company in the world that is capable of building these machines. By specializing and harnessing the economies of scale, ASML is enabling semiconductor companies to create more powerful chips more cheaply.

Biopharmaceuticals:

In biopharmaceuticals, we see similar forces of fragmentation through the value chain for an industry in which R&D and manufacturing requires significant time, cost, and risk. The convergence of biology, genomics, and digitalization has enabled breakthroughs in understanding disease pathology, which has given rise to new generations of diagnostics, precision medicines, and drug categories to address previously untreatable diseases. In addition to the traditional pharmaceutical companies, in recent years, many smaller biotechnology companies have emerged to meet the increased demands of an aging population that seeks more precision therapies to address acute and chronic diseases.

Fifteen years ago, biopharmaceutical R&D was primarily directed toward blockbuster drugs addressing large patient populations. With the advancement of new tools and technologies, today many drugmakers are increasingly focused on creating precision medicines addressing smaller patient populations. We have seen a proliferation of investment in next-generation treatment categories, such as cell and gene therapies, bispecific antibodies, antibody drug conjugates and mRNA vaccines. In five years, we expect to see a continued proliferation of new drug categories as technology and biology advance and as demand for precision medicine grows.

To handle this growing complexity, the biopharmacuetical industry is, in many ways, following the semiconductor industry in terms of specialization and outsourcing. Drug developers are turning to contract service providers that can help accelerate time to market, enhance efficiency, and provide deep technical capabilities while mitigating risk by reducing capital expenditure requirements and shifting fixed costs to flexible costs. Like the semiconductor manufacturers before them, these biopharmaceutical service providers are deploying significant amounts of capital to expand capacity and increase barriers to entry, thus enhancing their competitive advantages.

 
BIOPHARMACEUTICALS VALUE CHAIN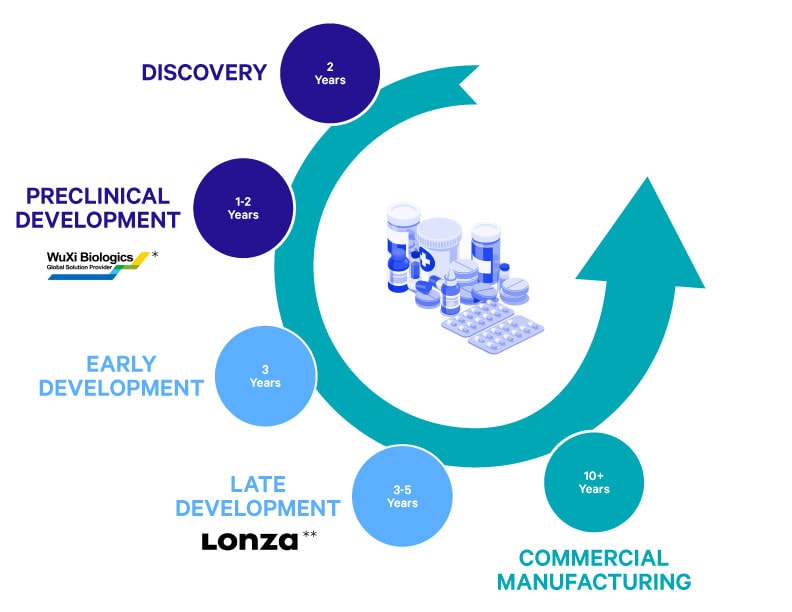 Biopharma Outsourcers Offer Opportunities for Investors
As the biopharmaceutical value chain continues to fragment, outsourced service providers, such as contract development and manufacturing organizations (CDMOs), have emerged as critical enablers of innovation, providing desperately needed development and manufacturing for COVID-19 vaccines and many other drug therapies in a capacity-constrained industry. These 'picks and shovels' businesses represent investment opportunities given the outlook for sustained volume expansion and rising demand for outsourcing in the biopharmaceutical sector. As service providers, CDMOs are poised to capitalize on the growing therapeutic R&D pipeline, including the accelerating biotech wave in Asia, with less binary clinical trial risk—meaning the risk of the only possible outcomes being success or failure—than drug developers. This is because leading CDMOs typically work on hundreds of projects with dozens of clients at a time.
Applying insights from our research in the semiconductor industry, we have developed high conviction around two CDMOs—Lonza (Switzerland) and WuXi Biologics (China). We expect both these businesses will continue to consolidate a fragmented CDMO industry, capitalizing on strong secular trends with growing leadership in their areas of operation.
Lonza's Century of Adaptation
When Basel-based Lonza opened its doors in 1897, it produced electricity harnessed from the power of the nearby Lonza River that runs through the Swiss Alps. Lonza manufactured chemicals for most of the 20th century before initially moving into biotechnology in 1974. In the past decade, it has evolved into a leading healthcare CDMO, divesting noncore legacy businesses to focus exclusively on servicing clients in biopharmaceuticals and health products.
Today, Lonza is at the cutting edge of biopharmaceutical innovation, providing outsourced development and production services across biologics, small molecules, cell and gene therapies and capsules and health ingredients. In the race to produce a COVID-19 vaccine, mRNA pioneer Moderna signed a 10-year contract with Lonza in May 2020 to enable the manufacture of Moderna's COVID-19 vaccine and additional products in the future.
Based on Lonza's expanding leadership position in the CDMO industry bolstered by robust supply-demand dynamics, we expect Lonza to deliver sustained double-digit annual revenue and earnings growth over the next four to five years. We also see upside to our estimates from the expansion of Lonza's cell and gene therapy business, capital deployment, and continued business development in a growing industry.
WuXi Biologics' Decade of Expansion
The rise of small biotechnology companies has been another factor driving demand for CDMO service providers. In 2020, we witnessed record levels of venture capital funding in the United States, leading to IPOs of more than 80 biotech companies. Today, small biotechnology companies are producing more than two-thirds of drugs in the global R&D pipeline, and these companies typically lack resources to execute complex R&D activities and commercialization internally. Instead, the more efficient and cost-effective route is to outsource technical and capital-intensive elements of the value chain to specialized service providers. Large biopharmaceutical companies also face pressures to develop drugs faster in an increasingly competitive environment. As a result, they rely on CDMOs to deliver operational efficiencies, while mitigating risk across the value chain.
WuXi Biologics, founded in 2010, is a much younger company than Lonza, starting off as a go-to CDMO for small biotechnology companies seeking flexibility and customization. Based on its technology, execution, and human capital, WuXi has consistently gained market share over time. It has grown into a leading globally facing biologics technology platform, offering end-to-end solutions to empower biopharmaceutical clients to more quickly and cost-effectively discover, develop, and manufacture biologics from concept to commercialization. Like Lonza, WuXi has made significant contributions to the global fight against COVID-19, delivering a neutralizing antibody from Vir Biotechnology and GlaxoSmithKline in record time of 14 months from DNA to EUA (Emergency Use Authorization). For context, the average drug takes over 10 years to bring to market, at an average estimated cost of over $2 billion and has a single-digit probability of success.
Based on its flexible infrastructure and strong track record, WuXi has won more than 80 percent of new antibody drugs entering clinical trials to treat COVID-19 and is working to develop vaccines against the virus. The company continues to sustain strong market share in China while expanding its global footprint, backed by state-of-the art technology, solid execution, and significant talent, enabling customized solutions for small biotech and large pharma clients alike. As WuXi Biologics expands its competitive advantages in a sticky industry with high barriers to entry, it is poised to deliver annual revenue and earnings growth well above 40 percent over the next three-to-five years, in our view.
Fragmentation and Consolidation
The fragmentation of the semiconductor and biopharmaceutical industries has proceeded in a strikingly parallel fashion. However, biopharmaceutical outsourcing has been evolving into a model of end-to-end service providers that favors neither a winner-take-all nor a zero-sum industry. We don't believe it will produce the same oligopolistic businesses that have evolved to dominate specific verticals along the semiconductor value chain, in which production tends to be standardized around the relatively homogeneous computer chip. In biopharmaceuticals, the rise of precision medicines has driven more demand for customized production, increasing high regulatory barriers while making it difficult for drug developers to switch vendors. This evolving structure has rendered vertical integration obsolete and uneconomic, as heterogenous end products are not conducive to the creation of monopolies. Thus, while we expect leading CDMOs, such as Lonza and WuXi Biologics, to increase their market share and global scale over time, we do not see them attaining the same oligopolistic status achieved by ASML and Taiwan Semiconductor.
In the purest of supply-and-demand economics, companies such as Lonza and WuXi Biologics offer the kind of economies of scope and scale needed to create products faster, better, and more cheaply—attributes that might not otherwise be achieved within fully integrated biopharmaceutical companies. These businesses, like their peers in semiconductor outsourcing, have revolutionized the structure of their industry and are setting the stage for years of potential growth.
Envisioning "What If?"
The race to curtail the spread of the coronavirus has accelerated innovation across many industries, perhaps most notably in those that closely affect the way we live. In the past 18 months, we have seen how advances in semiconductors and biopharmaceuticals have not only changed our lives but allowed us to live more safely. Without highly advanced circuitry that enabled us to work, shop, and socialize from home and the rapid deployment of the COVID-19 vaccine, the world might look very different.
When Morris Chang first launched Taiwan Semiconductor, he most likely did not predict that widespread adoption of the cellphone and its myriad applications would become essential to power our lives in the 2020s. But he was able to imagine that significant change was both possible and inevitable and to plan for it. Through our research, our extensive vetting sessions, and sometimes through the power of our imagination, we try to do the same for our clients. We endeavor not only to understand "what is" but to envision "what if?"
1 https://stats.areppim.com/stats/stats_mobilexpenetr.htm
2 https://www.cisco.com/c/dam/m/en_us/solutions/service-provider/vni-forecast-highlights/pdf/United_States_Device_Growth_Traffic_Profiles.pdf
3 https://www.kearney.com/communications-media-technology/article/?/a/why-a-resilient-semiconductor-supply-chain-is-imperative-and-how-to-create-one
4 https://pr.tsmc.com/english/news/2033
Disclosures:
The portfolio companies identified represent a subset of current holdings in Sands Capital portfolios to illustrate examples of semiconductor and biopharmaceutical outsourcers that are part of cross-sector research studies. They were selected because they represent the largest weights among semiconductors and outsourced biopharmaceutical providers across SCM portfolios. We first purchased Taiwan Semiconductors Manufacturing July 1, 2010; it is held in Emerging Markets Growth and Global Leaders. We initiated ASML January 1, 2009; it is held in Global Growth; we initiated Lonza on June 3, 2019; it is held in Global Leaders, and we first bought WuXi Biologics, which is held in Emerging Markets Growth, on March 3, 2019.
The views expressed are the opinion of Sands Capital Management and are not intended as a forecast, a guarantee of future results, investment recommendations, or an offer to buy or sell any securities. The views expressed were current as of the date indicated and are subject to change. This material may contain forward-looking statements, which are subject to uncertainty and contingencies outside of Sands Capital's control. Readers should not place undue reliance upon these forward-looking statements. There is no guarantee that Sands Capital will meet its stated goals. Past performance is not indicative of future results. A company's fundamentals or earnings growth is no guarantee that its share price will increase. Forward earnings projections are not predictors of stock price or investment performance, and do not represent past performance. References to companies provided for illustrative purposes only.  The portfolio holdings identified and described do not represent all of the securities purchased, sold, or recommended for advisory clients. There is no assurance that any securities discussed will remain in the portfolio or that securities sold have not been repurchased. You should not assume that any investment is or will be profitable. GIPS® reports and additional disclosures for the related composites may be found in the Sands Capital GIPS Report. PT 20210268
Finding Opportunity Beyond Volatility
While we believe we own businesses that can stand the test of time, periods of volatility offer an opportunity to revisit, challenge, and build fresh and renewed conviction in all of our investment cases.
Today, we view electrification, or the shift from vehicles with internal combustion engines to those powered by batteries, as one of the most important secular trends of the next decade.
Uncovering Long-term Opportunity in a Short-sighted Market
As the worst sell-off in our 30-year history ensues, we are reflecting on our investment cases and the expected returns of our businesses, which we believe are more attractive than they have been in years.
Our latest thinking on innovation investing, long-term capital, and culture.
Something has gone wrong, check that all fields have been filled in correctly. If you have adblock, disable it.
The form was sent successfully