AIA Encouraging and Educating People to Lead Healthier Lives
This pan-Asian life insurer has launched a broad-based campaign that targets key health risks and chronic conditions that can be treated or prevented with healthier lifestyles and better access to health care.
In Asia and Australia, the markets that insurance and financial services firm AIA serves, 76 percent of deaths are caused by unhealthy behaviors.1 AIA is committed to making a difference, so it developed a broad-based campaign to help people lead "Healthier, Longer, Better Lives."
The campaign targets five key health risks—physical inactivity, unhealthy diets, smoking, excess alcohol consumption, and air pollution. The firm also focuses on five chronic conditions—lung disease, diabetes, cancer, heart disease, and mental health—that can be treated or prevented with healthier lifestyles and better access to health care.
Providing Awareness, Education, and Rewards
AIA recognizes that making a long-lasting change in one's lifestyle can be a challenge. The AIA Vitality Program focuses on the three things that  people need to alter their habits over the long haul.

Awareness: The program provides health checks and screenings so people can understand the status of their health and whether there are any indicators—like high blood pressure or high glucose levels—that could put their health at risk. It also lets people know about the availability of vaccines that make it possible to avoid illnesses such as measles, mumps, and polio.
Education: The program teaches people how to set goals and make healthier choices, such as joining a gym, preparing nutritious meals, getting more than seven hours of sleep per night, and quitting a nicotine habit.
Rewards: Behavioral economics provides many insights on the incentives that will keep people motivated. The program incorporates these principles in a variety of ways. For example, people can earn AIA Vitality Points to achieve four status levels ranging from Bronze to Platinum. It is similar to the reward system many games incorporate to keep people striving for higher levels of success. As they continue to adopt healthier habits, people can also receive monetary incentives that include discounts on insurance products and discounts or vouchers for shopping,  entertainment, and travel purchases.
Succeeding Across a Wide Range of Health Metrics
AIA has offered its Vitality Program to millions of holders of its health and life insurance policies. The benefits are evident from how many have improved their health by following the program's recommendations in 2019.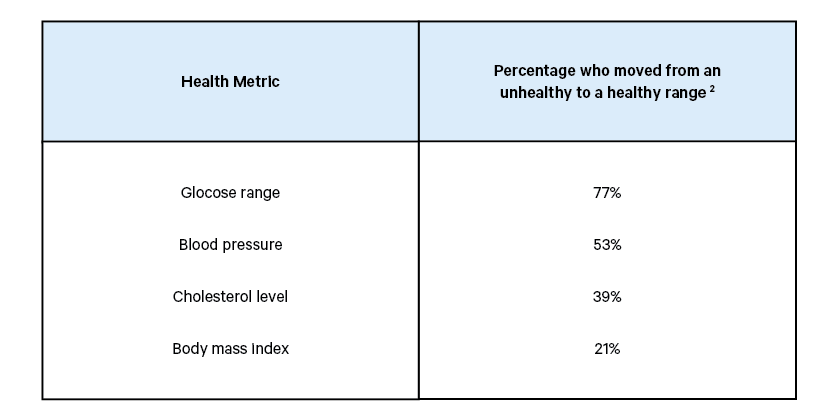 Getting healthy certainly helps people feel younger, and people who participated in the program, on average, improved on its measure of Vitality Age by a half year.
Making It More Acceptable to Seek Mental Health Support
Historically, across Asia, there has been a stigma associated with acknowledging a mental health disorder and seeking treatment for it. AIA has established insurance policies to help people address disorders such as depression and obsessive-compulsive behavior.

It also recognizes that dealing with major illnesses can be difficult without ongoing expert guidance. It offers a MindCoach program that uses cognitive behavioral therapy principles to help people deal with issues such as anxiety and depression. People coping with the physical and mental stresses of illnesses such as cancer or musculoskeletal conditions can also get coaching services that combine video telehealth sessions and supportive phone calls.
Helping People Get Their Required Rest
Asia is seriously sleep-deprived. An AIA survey of consumers—as reported in its 2019 ESG report—found that 54% say they get less than six hours of sleep per night. Lack of sleep is a top-five health concern in Asia, and the number one reported health issue in mainland China, Indonesia, and Thailand.

To foster behavioral change, AIA rolled out a #OneMoreHour campaign to highlight the benefits of getting sufficient sleep.
Partnering with Admired Athletes to Get the Message Out
Since 2017, David Beckham has served as AIA's Global Ambassador. He plays a key role in promoting the firm's promise to support Healthier, Longer, Better Lives. The globally recognized athlete travels across Asia, delivering talks at wellness summits and offering football clinics.

He also spearheads AIA's "What's Your Why?" campaign, and he was featured in a film in which children across the Asia-Pacific region got answers to their questions about their families' health and wellness challenges.
AIA has also partnered with the Tottenham Hotspur Football Club from the English Premier League since 2013. Coaches from the Spurs' international development outreach are based permanently in the Asia-Pacific region to promote participation in football—known as soccer to Americans—throughout the region.
Since the coaches moved to Asia, 55,000 children, staff, and customers have attended coaching sessions across the region. As an extension of that program, AIA Cambodia's 100 Football Fields initiative equipped 100 primary schools across Cambodia with goalposts, footballs, bibs, and cones.
Physical inactivity has been a major contributing factor to the high rates of noncommunicable diseases across the region. The football stars are motivating both children and adults to get their bodies moving and staying healthy through fun and engaging activities.
Sustainable Development Goals
The Sands Capital six investment criteria tend to lead us to businesses that are innovators or vital facilitators of change in industries undergoing significant transformation. AIA is one of many  portfolio businesses that create impact by addressing at least one major social or environmental challenge identified by the United Nations Sustainable Development Goals (SDGs). AIA's firmwide efforts contribute to a number of SDGs. The AIA Vitality Program and associated measures described here are in complete alignment with the SDG 3 goal of Good Health and Well Being; while also supporting SDG 4, Quality Education; and SDG 10, Reduced Inequalities.
1 AIA Group Limited Environmental, Social and Governance Report 2019
https://www.aia.com/content/dam/group/en/esg/HAR20020050_E_AIA_ESG19(1550)F_.pdf
2 Source: AIA Group Limited Environmental, Social and Governance Report 2019 (https://www.aia.com/content/dam/group/en/esg/HAR20020050_E_AIA_ESG19(1550)F_.pdf). The sample represents the health data of AIA Vitality member s across markets where it was offered in 2019. Only health data that was verified and reported by medical practitioners was considered in this sample. Based on comparison between the first and most recent health checks (at least three months apart) conducted by members during their AIA Vitality membership using data as of December 31 2019.
Disclosures:
The business profiled was selected based on its reported alignment with one or more U.N. Sustainable Development Goals. The views expressed are the opinion of Sands Capital Management and are not intended as a forecast, a guarantee of future results, investment recommendations, or an offer to buy or sell any securities. The views expressed were current as of the date indicated and are subject to change. This material may contain forward-looking statements, which are subject to uncertainty and contingencies outside of Sands Capital's control. Readers should not place undue reliance upon these forward-looking statements. There is no guarantee that Sands Capital will meet its stated goals. Past performance is not indicative of future results. A company's fundamentals or earnings growth is no guarantee that its share price will increase. Forward earnings projections are not predictors of stock price or investment performance, and do not represent past performance. The specific securities identified and described do not represent all of the securities purchased, sold, or recommended for advisory clients. There is no assurance that any security will continue to be owned by Sands Capital Management. You should not assume that any investment is or will be profitable. All company logos and website images are used for illustrative purposes only and were obtained directly from the company websites. Company logos and website images are trademarks or registered trademarks of their respective owners and use of a logo does not imply any connection between Sands Capital and the company. GIPS® reports and additional disclosures for the related composites may be found in the Sands Capital GIPS Report. PT #20210045
Making Education Less Stressful and Financially Burdensome
Chegg is committed to helping students reap greater benefits from their pursuit of an education.
Charter Communications Is Bringing Broadband Access to Rural Communities
The pandemic has underscored the extent of the digital divide in the United States, where only 65 percent of the rural population have fixed, high-speed internet access, according to the Federal Communications Commission (FCC).
On Guard Against Cyberthreats
Cloudflare makes its web security and reliability services free to organizations that serve vital public interests.
Our latest thinking on innovation investing, long-term capital, and culture.
Something has gone wrong, check that all fields have been filled in correctly. If you have adblock, disable it.
The form was sent successfully